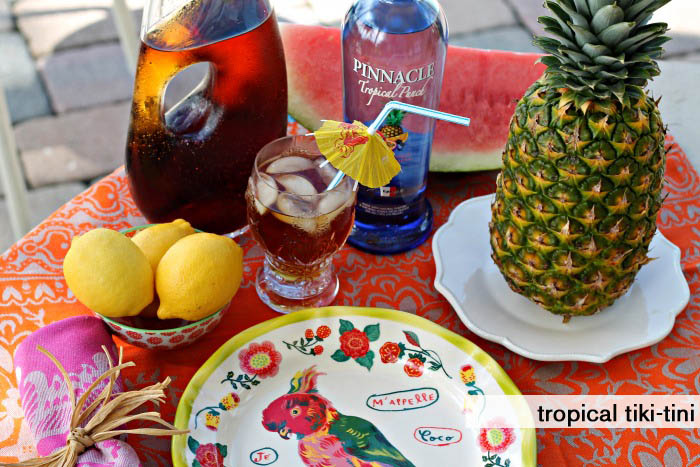 For TAGG's last post with Pinnacle, we're excited to wrap up by sharing one last summer-themed recipe. My Florida, Texas and California friends can enjoy this in the heat for a little while longer but even when it gets chilly out, have a summer throw-back party with a cool take on what we think of a tropical party. You don't have to go full-out with leis and grass skirts; go a little more modern by infusing the fun colors with cool pieces. While decor is not admittedly my thing, how pretty is this set-up from my super talented friend, Heather, the well-known party planner behind Posh Parties who just launched Posh Style to help people like me enhance events with everything from themes to details like tablescapes, linens and other details (ps: follow on Insta for loads of inspiration!).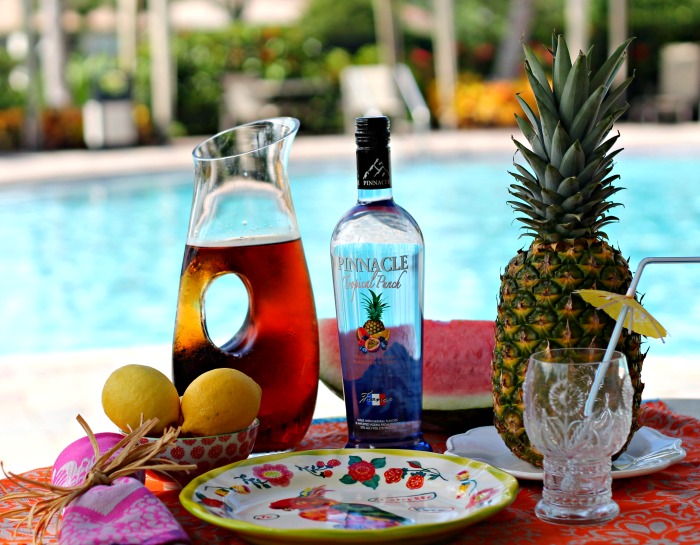 Back to the cocktail and Pinnacle, as we're wrapping up here I must confess how impressed I am by the brand. This recipe is nearly identical to our spiked arnold palmer, however selecting the Tropical Punch Vodka — compared to the citrus — really does create these impressive flavor combinations that I'd serve up to guests in a heartbeat. Pinnacle's range of 40+ flavors are never overpowering, and in this case, add this light refreshing flavor to balance the tea.
So who's with me? Ready to pretend it's summer for a few more months? Check out the Tropical Tiki-Tini recipe below, or watch this fun video to see how to make it in under 30 seconds!

Tropical Tiki-Tini
1 part Pinnacle Tropical Punch Vodka
2 parts Iced Tea (I used unsweeted Publix brand tea)
Ice cubes
Mix together, shake and pour. Imbibe!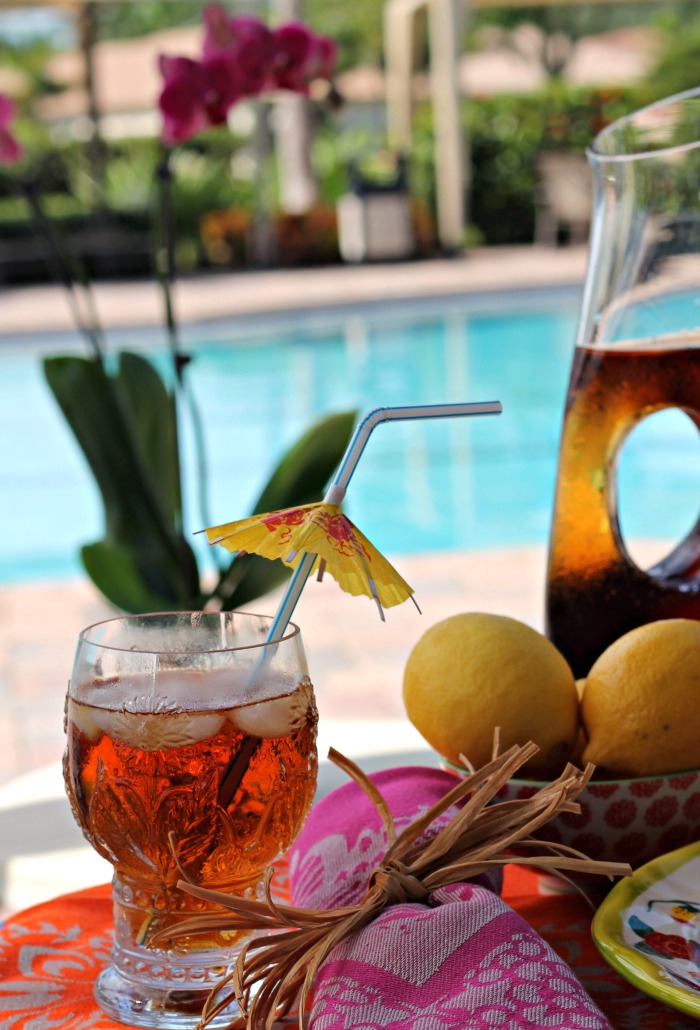 shop this post: linens (these dishtowels! also love these) // dinner plate // bowl for lemons
Be sure to bookmark TAGG's full roundup with Pinnacle:
Citrus Spiked Arnold Palmer // Refreshing Citrus Soda // Pineapple Whipped // Summer Punch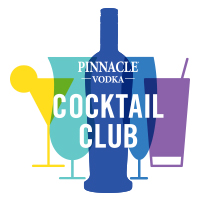 Pinnacle Vodka shakes things up with unexpected experiences and delightful discoveries. Explore with other fun flavors at www.pinnaclevodka.com. Also, check us out on Facebook and Twitter, or find more fun entertaining and drink ideas on our Pinterest page.
Pinnacle® is a registered trademark of Jim Beam Brands Co. and is used with permission. This is a sponsored partnership, with Pinnacle® Vodka, via Mode Media. The information, comments, and ideas expressed on this website are those of the author and do not necessarily reflect the opinions or positions of Jim Beam Brands Co., its affiliated companies, or any of their directors or employees.