Remember how I showed you how I styled a girls' dress from Crew Cuts (the kiddie version of J. Crew) on Monday? Well, even if you don't think you're made for kiddie sizes, your feet might! Did you know that women up to about shoe size 8.5 can wear children's shoes? While yes, a majority of shoes look youthful, there are a number of stylish looks and some that are even identical to their pricier adult counterparts.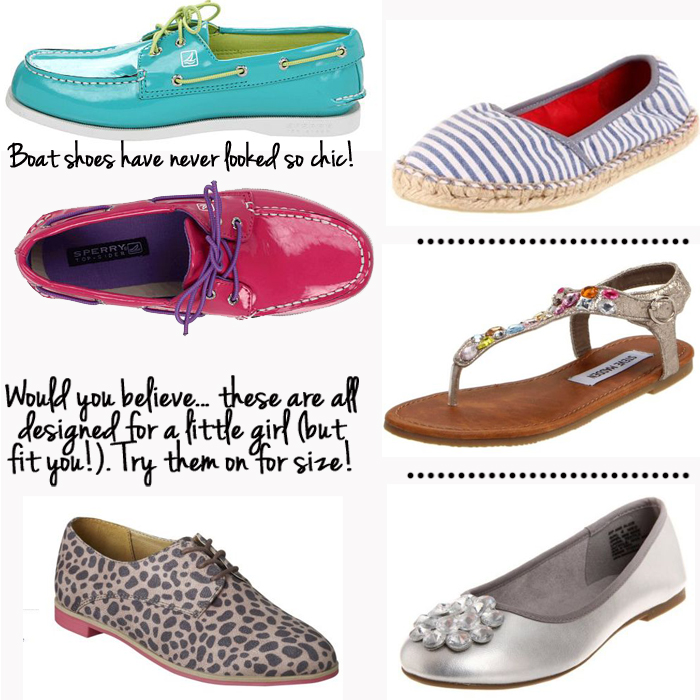 HOW THIS WORKS: Youth shoes are about two sizes apart (and the same size as men's!) so, for example, a youth size 6 is a men's size size 6 and a women's size 8. It's easiest to find sizes that work up to a women's size 7 (youth size 5), however options do exist… like most of the ones above!).  Endless.com is great for shopping because they have plentiful sizing and free shipping and returns. Loves.
Is this something you do? Would you be willing to give it a try (especially since it comes with a cost savings!)?
Sperry's pink patent leather (on mah-jor sale… under $25! Comes in a dozen colors, fabrics) || Steve Madden glam sandal || Kenneth Cole striped espadrille (free shipping + free return!) || Kenneth Cole flat || Xhileration cheetah oxford