Crop tops always seemed daunting, and something a 16-year old girl would wear, not this 34-year old. But, listen up: crop tops are where it's at, and are figure flattering on a variety of sizes (including bust sizes). Don't be intimidated… they can be more flattering than a typical top when styled right. I purchased the rhinestone top below before my NYC trip (wearing it here), and I also got the scalloped tank in black (styled here, wearing these earrings); it's actually such a steal I might buy another color. In both instances, pairing it with higher waist skirts did the trick. Just yesterday, I convinced a very hesitant friend to grey quilted try one at Target (can't find online)… instant purchase. She looked so fantastic, and inspired me to do this post.
A few tips to keep your crop top age appropriate:
- Ensure your bottoms meet up with our top so when you move around, only a sliver of skin shows (if that).
- Pairing it with a knee-length pencil skirt or a more voluminous midi length (just past your knees) is a great way to balance the tinier top.
- Nervous about baring skin? Add a blazer!
- Go matchy-matchy! You'll find tons of crop tops with coordinating skirts; it's a fresh take on a typical dress (remember my spring example?).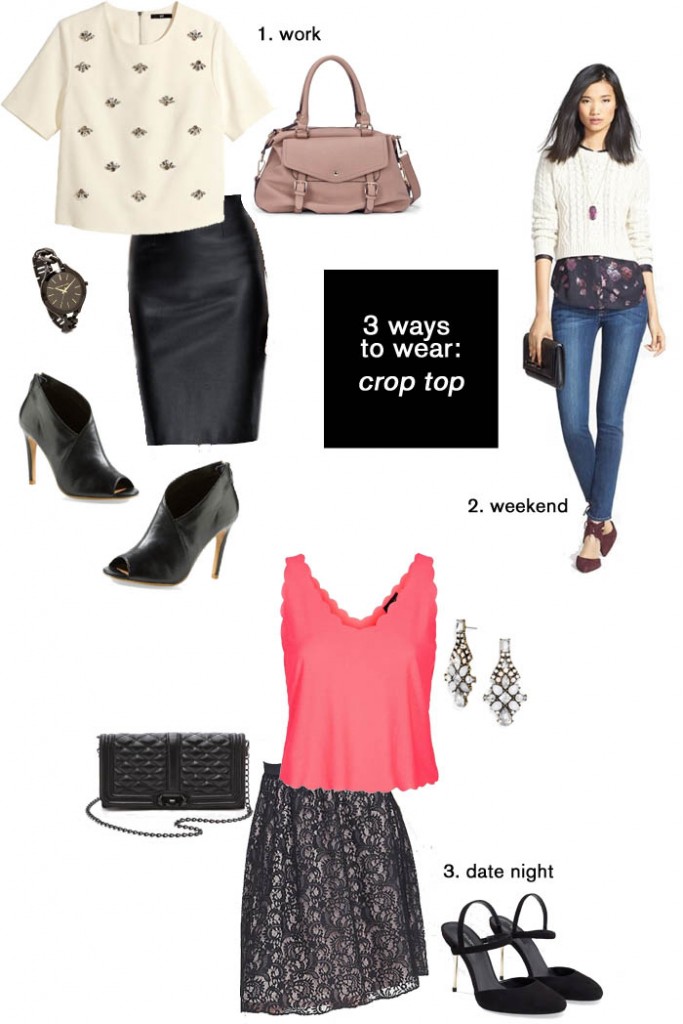 work: rhinestone top // vegan leather pencil skirt // booties (or this, for less) // purse // watch
weekend: cropped sweater + and heels (identical)
date night: scalloped tank // midi skirt // heels // earrings // purse (all black hardware… goes with everything!)
{ 13 comments }