During the week, it's all the energy I have to not whip out a bowl of cereal or cobble together a bunch of mini snacks (i.e. cheese, olives, and hummus!) for some sort of dinner. Both are fine and delicious in the right moments but as parents around here, we're also focused on dinner time with the kiddies so it's important we have good, hearty, delicious dinners as often as possible.
This latest recipe here by dear friend and talented photographer, Libby Volgyes, is a perfect example. It's easy yet visually appealing, can easily be doubled (or tripled!) and doesn't require a million ingredients.
Doesn't this recipe look so delicious? Must share that if you're in South Florida and interested in upping your food photography game, Libby is hosting this amazing, three-hour workshop on May 31, 2015 in West Palm Beach, specifically designed for food bloggers (and well, anyone interested!). She's going to teach practical tips to improve your lighting and prop styling, and finish with a casual, no pressure photo shoot of a garden party.  Libby has also wrangled in one of my favorite journalists, Palm Beach Post food editor, Liz Balmaseda, for a seminar on concise writing. I've attended one of Libby's seminars and it was so informative. Hoping I can go to this for a refresher because she's so nice that I don't feel dumb asking 6,392 questions about aperture and lenses and settings and everything in between. Details/registration: LibbyVision.com/workshop.
Now for the recipe for Chicken with Olives and Lemons: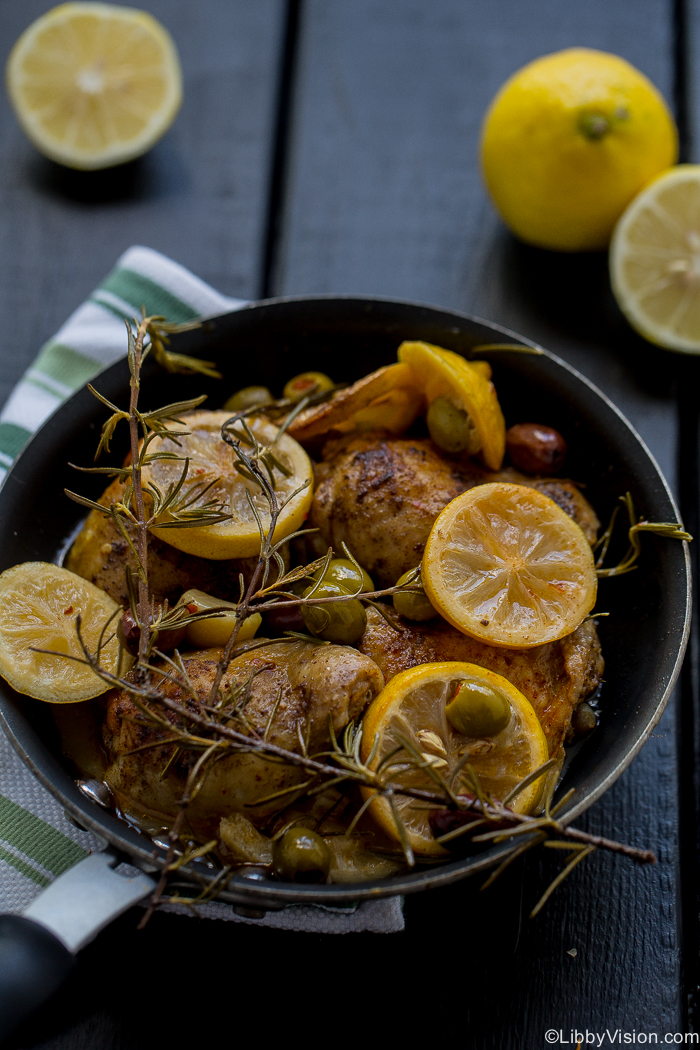 INGREDIENTS // Makes 2 servings and can easily be doubled
4 chicken thighs, skin-on and bone-in,
Salt and pepper
1/2 teaspoon red pepper flakes
4 garlic cloves
1/2 teaspoon fennel seeds
1/2  tablespoon roughly chopped rosemary (I added rosemary stalks because they were prettier)
1 tablespoon olive oil
1-2 Meyer lemons (I used regular)
1/2 cup flavorful olives with pits, a mixture of black and green
1/2-3/4 cup chicken broth
DIRECTIONS
Pat chicken thighs dry with paper towels. Season well with salt and pepper and place in an earthenware or cast-iron baking dish in one layer, skin side up. Sprinkle with red pepper, garlic, fennel and rosemary and drizzle with olive oil. Rub seasoning into thighs on all sides. Tuck lemon wedges around chicken. Let marinate for at least 15 minutes. Heat oven to 375 degrees.
Put baking dish in oven, uncovered, and roast until skin browns lightly, about 20 minutes. Scatter olives evenly over chicken and add broth. Cover tightly and bake for an hour, until meat is very tender when probed with a skewer.
Remove thighs and lemon wedges and arrange on a platter. Keep warm. Pour pan juices into a saucepan and quickly skim fat from surface. Over high heat, simmer rapidly until reduced by half. Spoon juices over chicken. Serve with rice, quinoa or a big salad. It's a delicious, flavorful and very simple dinner option and the braising renders the chicken super juicy. Plus – there's minimal dishes and minimal effort to make the whole dish.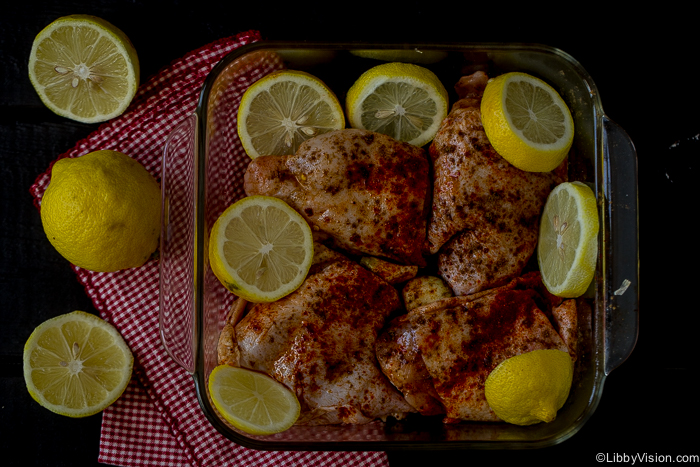 Recipe adapted from The New York Times and Seattle Times.
Photos credit: Libby Vision