First, I must confess that I'm practically bruised over here due to the level of "pinch me" moments of seeing my face on a full-page of Redbook in the November issue! I mean, talk about a dream come true. I've been a fan of Redbook for ages, with its content that each issue becomes more and more relatable and resourceful. I just can't believe it's my face in it.
Since I've had a few requests for outfit details, thought I'd use our little outfit Wednesday post to share with you the scoop, including one look that's new to the site, and two that I shared a while back. As you can tell, they're all similar looks, with one tote and a pair of heels styled in two of the three images. All about work with the essentials! Before we dive in though, can we share the quick Redbook back story?
Ok, so over the summer, Marla at Redbook contacted me about being featured in the November issue, featuring some of my favorite fall/winter looks. Wait, what, is this real?! There's no way. Spam? Those were my first thoughts. Once reality set in, I read a little closer that I should send over eight or so of my favorite fall looks for consideration. Back to freaking out. This Florida girl doesn't even own 8 sweaters! I didn't love many older photos from the site — many of which include me in my backyard! — so, in July, in 95 degrees and 100 percent humidity, I got creative, layered and did my best not to sweat to death as Heather from my PR office so patiently snapped away. I might have politely yelled to snap the photos as quickly as possible. Winter in Florida is typically short sleeves and skirts! It's still open-toed shoes. Marla, the sweetest girl under the sun, dealt with a gazillion emails, delays due to massive rain storms and finally declared she and her editors loved some outfits, but umm, can I just take one again but find a way to add another layer and a pop of color? Barf. Really? Ha! I didn't exactly listen… I layered on a bright, bold necklace as you see in this outfit, and luckily they gave it the green light! Fast forward two months, and ta-da.
OUTFIT #1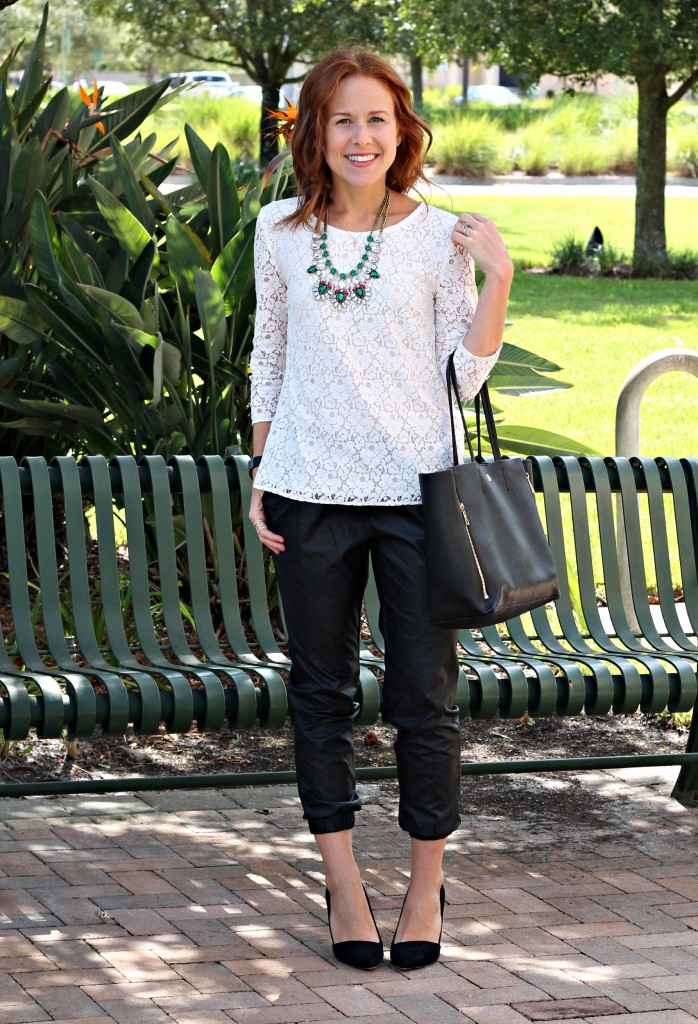 shop this look: lace blouse (old, via tj maxi; similar) // faux leather joggers: piperlime (last season, under $30 pair here, or in sequins!) // heels: madewell // tote: ℅ ann taylor (this season's version here) // necklace: ℅ baublebar (or gorgeous in purple)
OUTFIT #2:Â 
original post here // shop this post: leggings: ℅ lysse // sweatshirt: gap (last year; love this similar metallic grey/silver steal) // denim button-down: nordstrom (last year; similar) // sneakers: dv by dolce vita // heels: madewell // tote: ℅ ann taylor (this year's version)
OUTFIT #3: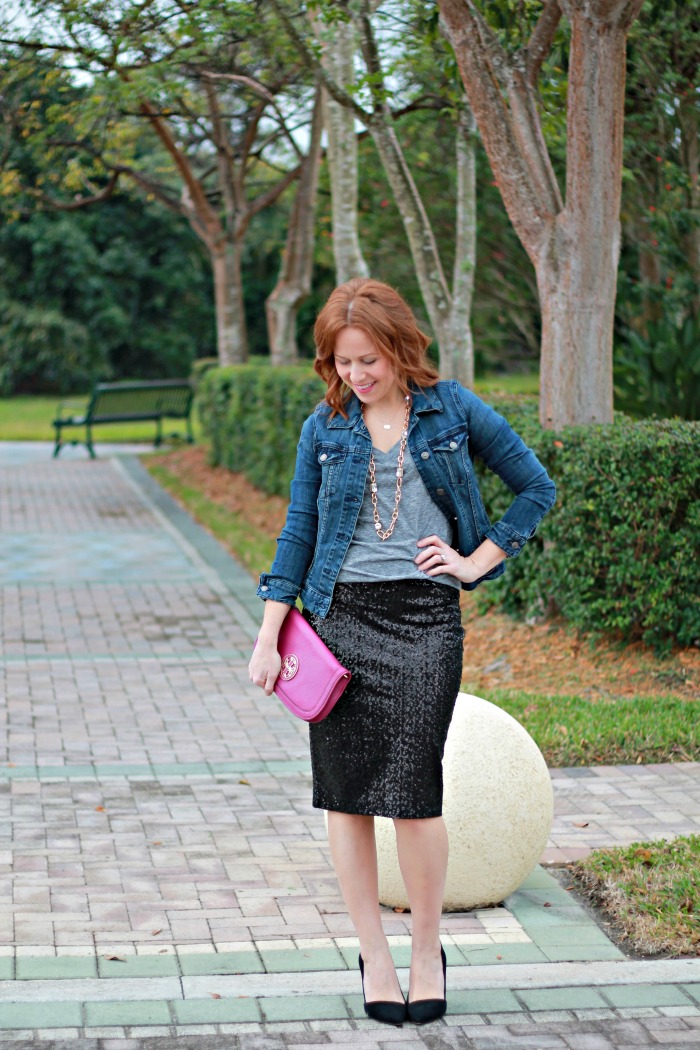 Original post here // shop this post: skirt: express (similar, or love this aztec print option, and this clearance pewter steal) // tee: old navy (the best, and $7.50!) // jacket: h&m (size up) // heels: madewell // clutch: tory burch (similar for less) // necklace: baublebar (similar) // dainty necklace: made by mary // lips: maybelline color elixir in raspberry rhapsody (love this stuff!)