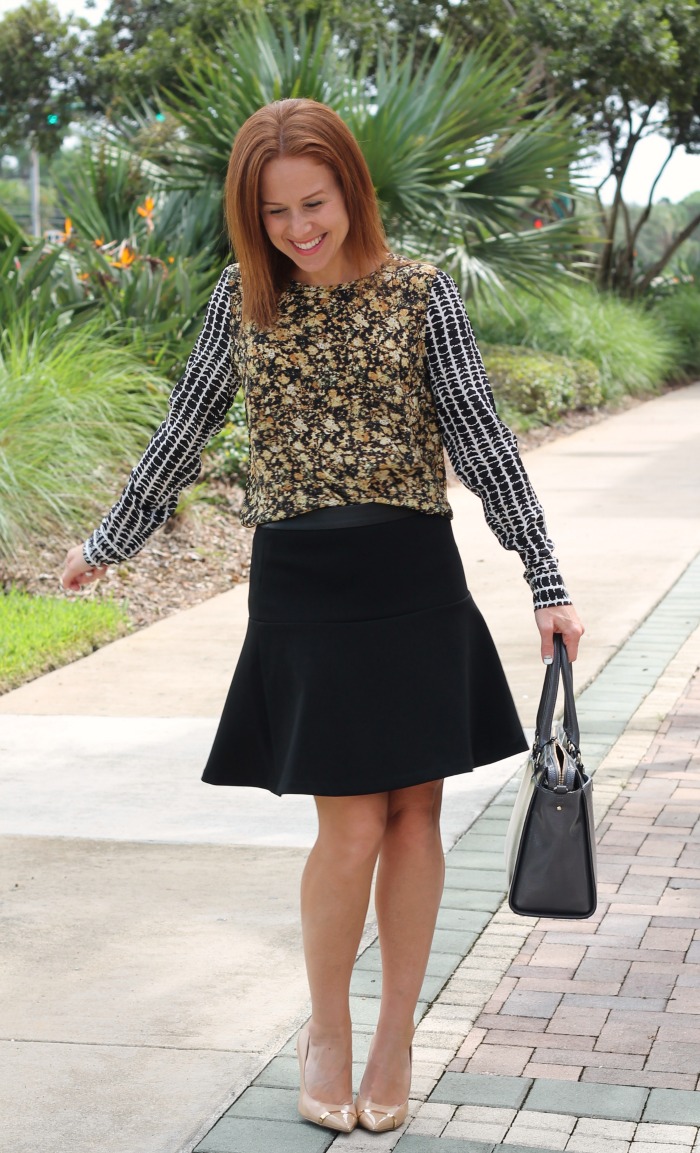 While shopping for my NYC trip a few weeks ago I was on the hunt for a fun black skirt. I was searching for a more voluminous midi length option to pair with a crop top but this skirt from Ann Taylor was too good to pass up. The cut, the leather detailing, the fun flouncy style… it just worked, it's universally flattering and I knew it would be a way more useful addition to my closet. Evidenced yesterday: in addition to being perfect for a night out, I wore this look to a local Chamber business networking breakfast. If you don't have a great black skirt in your closet right now, I cannot say enough good things (though there's tough competition: Ann Taylor's collection is getting better by the minute, evidenced by this assortment!)
And, can we chat about this blouse, part of Piperlime's new branded collection? Admittedly out of my comfort zone with this bold print duo, I half declared to friends I'd never wear this after getting it during a bloggers reception in NYC. Now? Love. Big time. The duo-print is awesome, the fit is great and it's different than anything I own (sound like question #3 from yesterday?). I am now seriously debating its navy floral print counterpart. Adorable, right? Pair that one with jeans for a casual cool dinner, and preferably fun heels or earrings with a pop of color to complement the prints.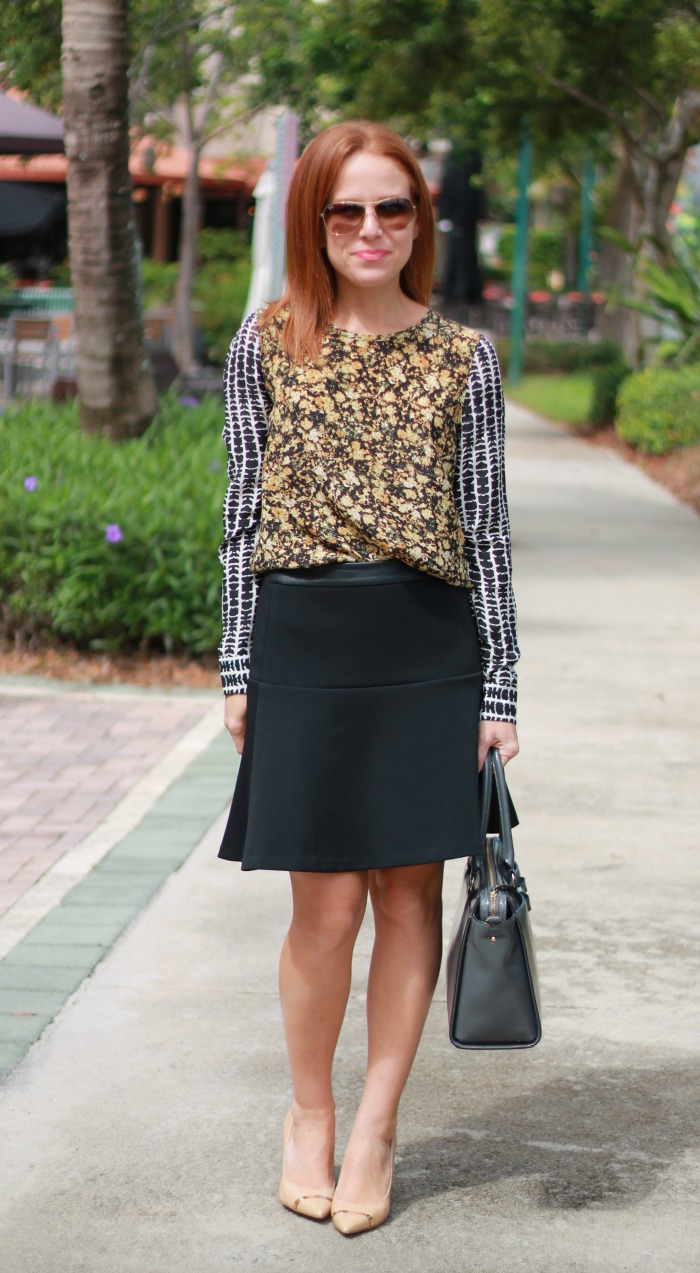 This mani — gold and white with a cool reverse moon shape in black — is my first foray into gel manicures in years and I'm in love. These photos are taken nearly two weeks after I got this done. I found nail expert Lucy at Venetian Nails (at Legacy Place in Palm Beach Gardens) through my friend Jen who often has the coolest mani styles. It's a splurge but no chips in two weeks (I usually have one within 24-48 hours!), and the fun style has been a big hit. It's like a fun little extra accessory every day.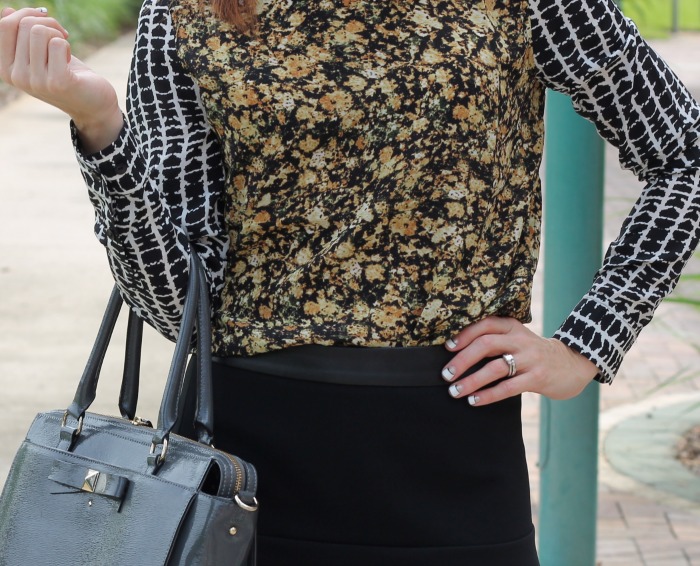 blouse: ℅ piperlime // skirt: ann taylor (runs big; size down) // heels: nine west (similar) // purse: kate spade (similar, and for less)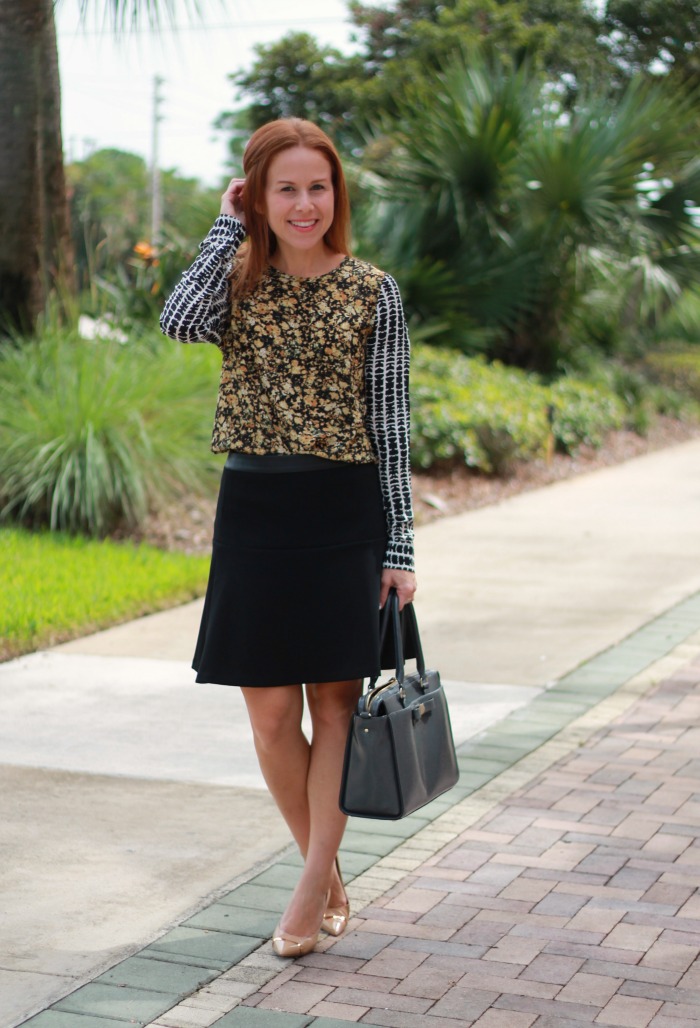 And, because twirling is so fun to do….