Ready for some Q&A action? Since starting this blog, I've somehow become a resource for style related questions from friends and family (my 25-year old self would NEVER believe me!) so thought i'd take it a step further and answer some questions from my amazing readers. For my latest post with Target they suggested I ask readers, "What is one thing that you love about style, and one thing you find challenging?" Your responses on Facebook were so great that I thought I'd respond to a few of them here.
I'm definitely not an expert in any way — wow, still crazy anyone is asking me for style advice! — but I've learned so much from starting this blog, and reading so many other blogs, that I hope this is helpful if even in a small way. I'll do my best to get to the rest ASAP if you guys like this post, and if you have a question, leave it in the comments section, or shoot me an email: [email protected]

From Sandy: How do I wear athletic shoes to outside places with the kids and not look like a shlub?
Such a good question! Instead of putting on athletic sneakers try a pair of slip-ons. I absolutely love the leopard pair shown here (and they're a steal!), however this all black quilted pair is perfect for those easing into the slip-on sneaker trend. Wear them with jeans, cargo pants, shorts, even a dress or skirt with a tee, for a cute casual look that's realistic when you're running a million places with the kids in tow.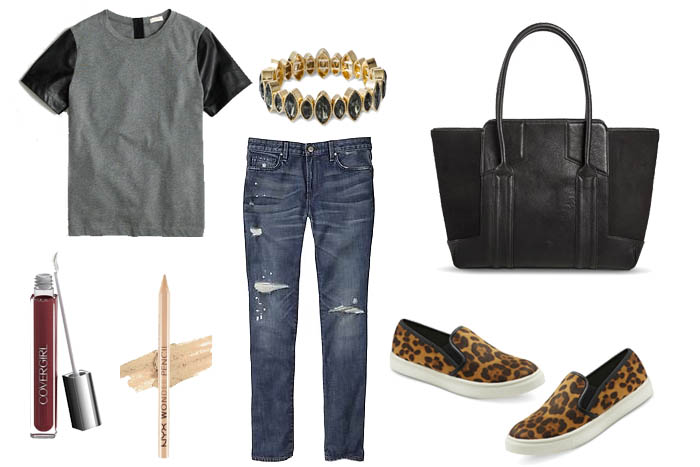 shop this outfit: sneakers // tote // leather sleeved tee // denim // bracelet // lip gloss // wonder pencil (best. $5. purchase. ever!)
From Lacey: Tall girl style specifically pants— I don't own any slacks other than jeans because they are so hard to find in long lengths — 35 to 36 in inseam. Pants have always been a huge struggle for me.
Despite being someone on the opposite end of the spectrum (I'm 5'3), I sympathize with your struggle. You have the benefit of those long beautiful legs so look for skinnier styles that end around your ankle — which also means they'll work with any heel height. Also, these two shops (this and this) have great reputations and have adorable pieces for the taller gal! If you have an easier time with denim, go dark: dressed up black denim can be work appropriate in many environments.
From Kristen: I find the most challenging is to stay away from buying the same things like polka dot print or a certain color over and over. All of a sudden you realize you shouldn't have purchased that fifth pink shirt! The struggle is real. 
I feel ya, lady! Until about five years ago, if it wasn't blue or striped I probably didn't own it. Ok, perhaps there was some black and white but I swear I thought orange, red, pink and yellow clashed with my hair, and green made me look like a Christmas tree. Couldn't make this up. The biggest thing is… find an item you like, (i.e. sweater or cardigan for fall) and buy it in another color. Or look for your favorite silhouette in a different print. Sounds obvious but it takes a second to remember. For example, love stripes? Try plaid this season. Adore black? Go with olive green, dark raspberry or olive green.
Also, search out quality items that don't break the bank. I do this with trying a trend I'm curious about, like skinny denim a few years ago. Buy it affordably. Target, for example, has this cute blouse in a handful of great prints. What's the first one you'd get? Now, bypass your instinct and pick a different one to mix it up! It's a great way to get a style you like in a  fun new print or color. If you're nervous, try a new color on your nails or toes, and do not be afraid to return if you catch yourself buying multiples. Otherwise the only waste is in your pocketbook (well, and in your closet). Create a closet you love by mixing in fresh pieces to the classic ones you gravitate toward each season.
Have more questions? Ask away!

Find your style @targetstyle.
Disclosure: Compensation was provided by Target via Glam Media. The opinions expressed herein are those of the author and are not indicative of the opinions or positions of Target.