Welcome to the second installment of The Woman, an introduction to phenomenal, accomplished women.
I don't think this girl fully realizes it, but I'm totally smitten by her smart, snarky, hilarous posts and tweets where she dishes and rants about who's wearing what on your favorite tv series and reality shows. Meet Dana Weiss, founder of Possessionista fashion blog. I find myself totally drawn to her posts even if it's about a show I don't watch. I just love discovering who's wearing what brands and clearly a lot of women are with me… her blog has skyrocketed and I'm thriled she's here visiting TAGG. Absolutely love her "never, ever" and what every woman should own. Just proves how much Dana knows her stuff.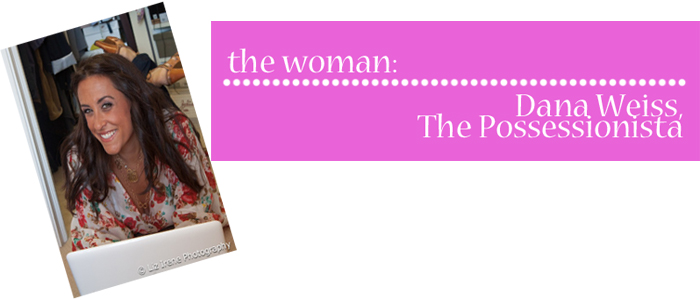 I am and my business/position is:
Founder of Possessionista.com
My style, in just a few words:
Sequins. Denim. And lots of accessories.
Every woman should own:
Shoes that make her feel thin. Jeans that make her look thin.
My beauty routine includes:
Cetaphil. Face lotion. Blush. And mascara.
I feel like a rock star when I wear:
Stilettos.
One thing that always makes me smile:
When people get sent home on the Bachelor.
My three favorite places to shop:
Aritzia. Cusp. The grocery store.
I can't get work done because I'm always on these web sites:
Hulu. Twitter. Facebook.
Professionally, I've learned that:
It's not personal.
Food craving usually includes:  
Carbs.
My go-to breakfast (lunch or dinner!):
Coffee. (sushi. And sushi.)
I manage it all (or most!) by:
Depending on my saner husband.
Never, ever:
Buy clothes too small because of the size on the tag.
Every woman should be:
Self-aware
What I've learned that I wish I knew five years ago:
I didn't have real problems.
Words to live by:
I can't be responsible for what you think of me. I can only be responsible for what I think of me.
Want more of her smart answers? Visit Dana at Possessionista.
{ 14 comments }