TAGG's here's today with a few new borderline stalker obsessions. Check them out to test for yourself.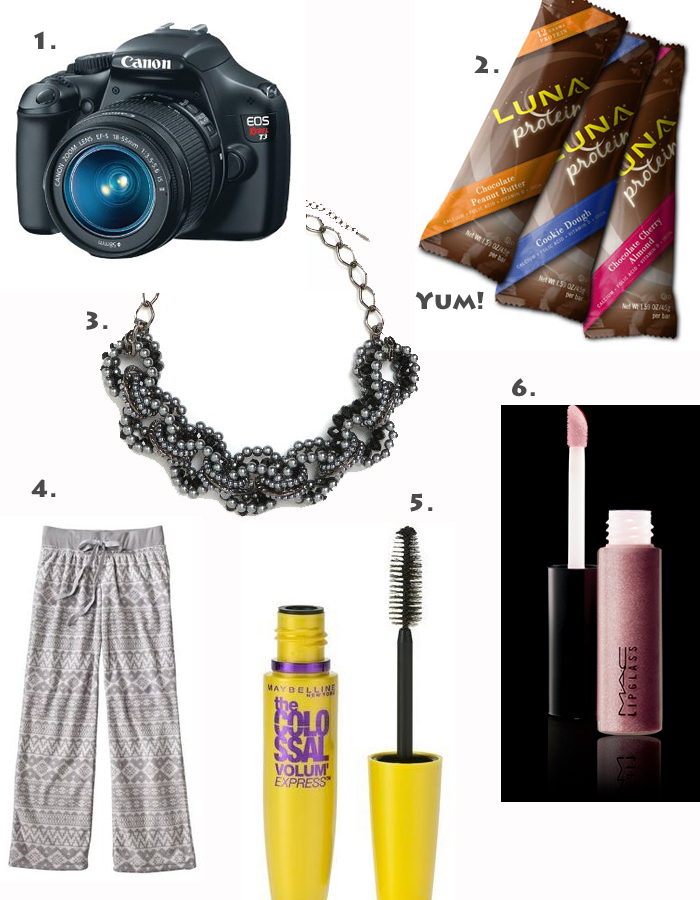 1. Canon Rebel. I jumped on the DSLR bandwagon on Black Friday when I scooped up the T3 version. Without stellar photog skills, I'm already in love. The quality and detail of the photos are outta this world, even with the auto function. Handy because who has time to read a manual?

For nights out, I'm always with my faithful Canon Elph 300 (so tiny! Fits in my back pocket or clutch).
2. Luna Protein Bars. These have become my new on-the-go snack bars, breakfast bars… and just, I'm starving bars! Since I'm avoiding extra fiber (doctors orders), these 180-calorie, protein-packed bars (they have 12 grams!) in delish flavors like cookie dough and peanut butter/chocolate have quickly become necessities for my pantry and to toss-in-my-purse. They're sooo good.
 3. BaubleBar necklace.  Sorry: this is such a tease because you can only get this BB necklace with earned points (through purchases or referrals), however I had to share because when I wear it, I'm bombarded with compliments (rough life, right? hah) and questions where to purchase. It's BaubleBar, my online obsesh for quality (affordable) jewelry. In less than a year it seems like it's exploded on the scene… every major mag has at least an item they covet each issue, and I agree! An awesome site for holiday gift giving and best of all, new customers get $10 off their first purchase! PS: check out its super handy ring sizer.
4. Cozy pj pants. Not the sexiest, but what average gal doesn't lurrrrvvveee cozy pj pants?! While I have my some Victoria's Secret and pricier pairs, I must show you my new cozies from Tarjay! Holla if you've been to their pajama/lingerie section lately… killing. it! I scooped up these cozy fleece pants with this fun pale grey print for a measly $10 (on sale this week!), and yes… have worn them three nights in a row. Don't judge, it's our little secret (they are so freaking comfy!).
5. Maybelline Colossal Volume Express mascara. While I was a Maybelline Stiletto gal for a while, I'm a convert after stumbling across this at CVS. It really plumps and adds volume to my lashes without making them clumpy. Perk: it's less than $7.
6. MAC Viva Glam VI lip glass. Even though the more neutral Viva Glam V still has a prime position in my purse cosmetics bag (often paired with Gaga lip glass; see my review), VI has this shimmery berry hue that adds a fun pop of color. I thank the MAC artist who put it on me for my Cleopatra Halloween look. Very grateful. If shimmer is not your thing, try the lipstick version. Almost universally flattering!