Just a quick update to share some progress made on my PR company's office entry. Target had me acting like a giddy school girl when they told me a few months ago they could deliver on my wish to get the help of interior designer (and total cutie), Nate Berkus, who has a fantastic line at Target, for our front entry space. If there's one thing I'm admittedly terrible at it's interiors — it's getting better thanks Pinterest and home design blogs — but I had been paralyzed to make any sort of decision. We bought the console table you see below for a coffee station, but that's about it. Well, there was a lime green IKEA chair on the other side, and bright blue walls. I'll show you the before and afters in the final post… brutal. You can imagine why my call with Nate — who I've admired since he was first on Oprah more than a decade ago — was a major moment in this girl's book.
Here's some of the progress made (ignore the horrific iPhone photos, fingerprints on the mirror and to-go mugs; sorry!):
When I spoke to him, by the way, at an airport with the worst cell phone reception ever, I totally nerded out… and even acknowledged it to him on the phone. Maybe this is why I never hung with the cool kids?!

Regardless, he was totally cool, and shared so much helpful advice for my space, and that every girl could use in theirs. I'll share here in the next week or two. I can't wait to show you the entire space, including this amazing subtle green hue Nate selected for our walls. I saw the swatch, thought blah, and OMG, it's perfection. He's genius. The paint is "Silver Marlin" from Benjamin Moore if you want to scope it out.
PS: Huge shout-out to my friend, Brianna, who has been a monster-huge help. She's so good at design, and I've been at a major lack for time so who am I to argue when she agrees to help? We had the best time browsing Target's aisles, selecting so many good things from Nate's line — the new accessories are insane — as well as Target's Threshold line. Maybe I cheated a little by enlisting help but it's so much more fun with friends, especially talented ones! And, I love that everything in the office looks so good, great quality, yet it is so affordable. Love you, Nate x Target!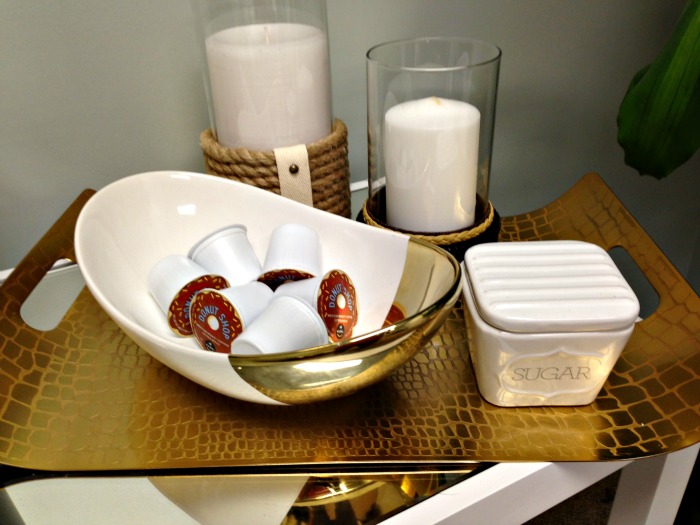 By the way, huge apologies for how long it's taken for me to get this preview post live. Between my personal stuff, and a few delivery delay issues, time has evaporated. Can't wait for you to see the rest of the place! I've shared a few more pics on Instagram (@avggirlsguide), and will continue to do so. Stay tuned, and thanks again to Nate and Target for this amazing opportunity.
Links to everything available online:
lamp + shade
wicker basekets
mirror
keurig
hurricanes (1, second available in store)
console table
tray
sugar container
gold dipped bowl
accent table
blue couch (Nate said to go neutral but we couldn't resist this when we saw it. I've only wanted a blue couch for… three years! My husband might be saved that we won't get one in the house)
beige pillow
gold pillow (amazing)
PS: Find Nate's Target line here!
Disclosure: The Average Girl's Guide is a member of Target's Inner Circle, a small group of social influencers around the country. Target provided me a gift card to purchase some of the items you see below, but we're still buying from Target because we're finding exactly what we want at a really great price. True statement.
{ 3 comments }