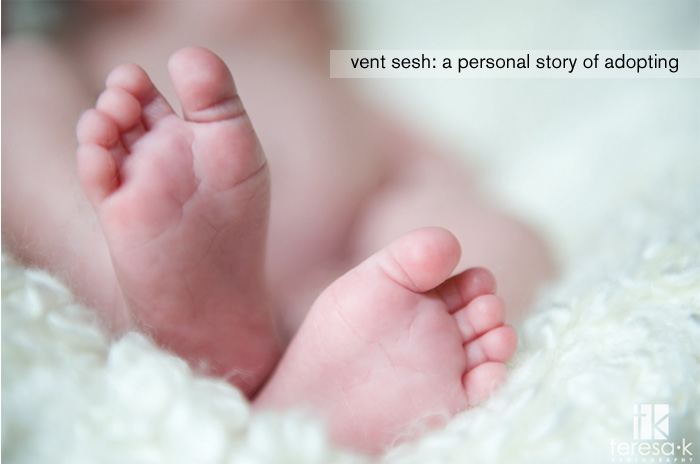 The baby that we thought was destined to be ours was due four days ago. Since late November 2012 we secretly had been planning to welcome home a baby boy to our family. Just recently, we finally started telling more friends and extended family, and even shared the news with our three-year old daughter. We nearly settled on a name, and I even emailed a handful of blogger friends to ask if they'd guest post for me while on "maternity leave." But as we've learned when you're adopting, sometimes the baby you finally let into your heart isn't destined to be yours at all.
Three weeks ago my husband got a call that the birth mother changed her mind, for reasons not worth getting into here. When I got home from an all-day seminar that night I saw two vases full of flowers… and an awful look on his face. I swear "I have news," or "I need to tell you something" is never a good thing. I had just purchased the baby bedding the night before — the cutest little alligator set — and was considering paint colors. I was even planning something fun with Target, and just spent time picking out registry items. The baby I was protecting from my heart for months finally wormed its way in and I couldn't stop thinking that any day we'd be snuggling. For so long we hardly talked about it, just inquired about doctor appointments and I'd sneak a look at the sonogram saved to my phone. But just a few weeks before the bad news my motherly emotions took over, and I began a major nesting phase, starting planning with my office how I'd manage a small break and work a modified summer schedule with the baby at home. I longed to hold this little guy. Being candid, I didn't expect to feel that way.
….. to back track: when we did our home study a year ago I honestly wasn't sure if I'd ever be ready to adopt. I felt guilt over not being able to get pregnant again; well more that I actually can get pregnant, but my neurologist strongly suggested otherwise since there's a chance the reason I got transverse myelitis (my story), which included temporarily paralysis and I now some random health crap, which could be related to pregnancy. It happened just four months after giving birth. Hormone changes after another pregnancy could yield who knows what. I mean what if I become paralyzed and meds can't reverse it again?? Not worth rolling the dice yet I feel like I'm inundated with pregnant bellies and newborn images. I'm so thrilled for all of my friends but slightly more miserable for me.I mean is Facebook one rolling baby and preg belly newsfeed, or what?
While my health issue is more unique, I know other women can relate to my struggles; infertility and other issues plague way more woman than anyone talks about. It's devastating to face each month. I can't imagine women who have been putting on a brave face dealing with IVF and other procedures.
So, when we got a call last November that a birth mother selected us, I broke down in tears that were a mix of many emotions. Along the way we saw signs that this situation felt so right. It was nearly impossible to keep the secret in as three friends here were pregnant, too… due April, May and June. I watched their bellies grow, getting a little more emotional each month thinking that soon enough all of our little babes would play together. I could picture it, and sadly, still can. It's hard to quickly change the mindset.
As someone who's been pregnant once before I know the feeling of preparing for a baby that you know undoubtedly is yours, that is coming home with you. With adoption, it's just the opposite: you relinquish all of all that because until that birth mother delivers the baby and signs away her parental rights, she can change her mind at any time (at least in Florida). That's exactly why we didn't tell the world, and why I hope you'll understand why I haven't shared it here until now.
I'm sharing this because if you're a woman dealing with this that I want you to know I get it, and you're not alone. And I'm sharing it because I'm doing everything in my being to keep moving forward while I'm hurting pretty bad. I haven't had the time needed to process this, to be sad and to be hurt. I've had tons of work meetings (which ps, I never planned to attend), blog posts, kid's birthday parties, you name it. And, I don't want to continually cry in front of our daughter, who luckily hasn't asked where "her brother is because she is going to be a big sister."
Last Wednesday we met with our adoption attorney (different than the one for this case; long story), and I broke down. It's easy to put up a brave front and typically say what will almost comfort others — well at least easy for me at times, I am in the PR business after all — yet talking about it in a way that was clear we lost this baby that was never even ours, felt like a knife in my chest. I cried. I did drive-thru ice cream at McD's, told work I was done for the day and got into my pajamas. It felt good to give into myself. A lot of tears were shed this day. Just as that day was about healing so is me sharing this here, to put it out there.
As much as this sucks, I'm confident everything happens for a reason and one day, if it's meant to be, we'll have our second baby. I know the process works, and I've seen beautiful stories of adoption. Just, one thing…. please don't tell me to be grateful for the one daughter we do have. I get this a lot. As anyone who has lost a child, had a miscarriage or anything similar knows, yes, there's major thanks for other children, but it doesn't diminish or take the other pain away. For now, it feels like I've lost my son.
{thanks for listening} Have you dealt with adoption, or challenges in the baby front? Comment here, and know you can always email me confidentially, too. I also highly recommend talking to a counselor, in addition to any required medical treatment. One of my best gifts to myself is speaking to my 'secret bff.'