I'm kind of in a hair crisis. I need your help. I used to have the crazy thickest hair, like insanely thick, and after baby and then my illness I lost sooo much hair. I mean, I was legit concerned I'd go bald. Four years later, it's in way better shape yet I just chopped off four inches to get rid of gross ends where my hair gets sparse looking so quickly. My roots are thick yet the ends are just wisps. Even my new stylist is a bit mystified. I just started taking biotin but anything else you recommend? Open to suggestions!
In the interim, here are four hair finds I (and my girl, who does have crazy thick, long hair!) can't live without: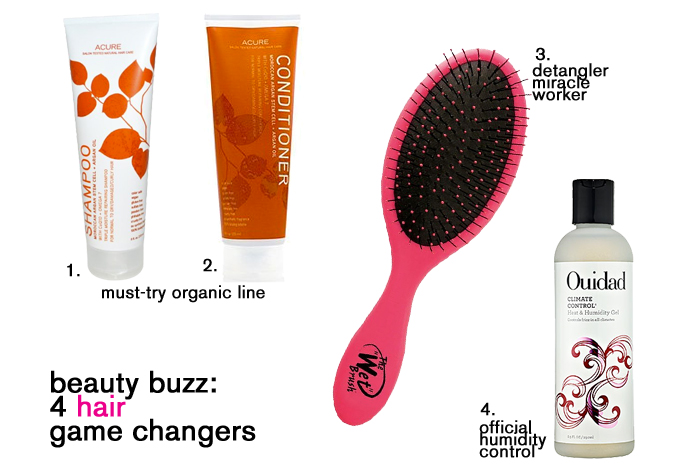 Acure Organics Morrocan Oil Shampoo & Conditioner: I tried this shampoo on a whim (I do love flexing my Amazon Prime memberships!) after searching for a more natural, safer option for myself and my daughter… the reviews were positive, the ingredient list looked good, and worse case, I was out $10. I've been so impressed that I've since purchased the conditioner and just bought a second set for my kid's bathroom. It lathers well (often a challenge with organic lines) and is super hydrating; plus, the conditioner does a great job at detangling. My hair feels clean and soft. I haven't been this excited about new products in a long time (and feel so much better that my scalp isn't somehow ingesting so many chemicals!).
Wet Brush (color options here): major victory! Combing my daughter's long hair is a daily tear/screamfest around here. Not sure who it's more painful for. We picked this up at the salon after our stylist recommended it; it's a game changer! I just ordered a second one (yes, on Amazon!) for my shower, because this detangles our daughter's hair so amazingly well compared to others and without pain when wet, and dry. Worth. Every. Penny. She actually brought my her brush yesterday… if you only knew how significant that was.
Ouidad Climate Control Gel: this brand is designed for curly hair girls, but I tried it last year to combat frizz and humidity and all the hair icks. I immediately saw a difference and still do. It's the only thing I put in my hair after shower (though I have been rotating with the Neutrogena heat protector from this post). It's ultra light-weight, and the bottle lasts forever. Available at Amazon and Sephora. Anyone use any similar natural products that work? Would love to hear.
{ 13 comments }