When it comes to being damaged, my hair sadly knows a thing or two. The ends of my hair are really prone to splitting and my blow drying, hair ironing and now curling/wave-inducing habits (sorry, heat-damaged hair!) certainly don't help my frustrating damaged hair situation. I recognize that I need to pay closer attention, particularly because my hair in recent years is so much thinner than it used to be so the split ends look more apparent, with all my hair looking more dried and fried. Ironically, it's why I've adored the wavier hair look — thus, creating a vicious cycle — since the ends are not as obvious when they're curled compared to straight.
Neutrogena just debuted a new trio of products, dubbed Professional Triple Repair, so no time like the present to test and report back to you. The results show it can mend 97% of spilt ends in one use, and reduce breakage by 80%, so those are claims I'm happy to take on a hair test. I could use stronger, smoother and more moisture-rich looking hair ASAP.
DETAILS: The system includes Neutrogena Professional Triple Repair Fortifying Shampoo, Neutrogena Professional Triple Repair Fortifying Conditioner, and the Neutrogena Professional Triple Repair Fortifying Leave-In Treatment. Use all three for maximum results, with ongoing treatment repairing the three leading signs of hair damage: mending split ends, strengthening brittle hair and protecting from breakage. Hair is also protected against heat styling over 400 degrees. <— key!
THE REAL DEAL: I've been using the trio for two weeks now, washing during the week about every three to four days, and daily on the weekends (after the gym). I honestly noticed a difference after the first use, primarily in softness and fullness of my hair — the ends didn't look as noticeable as usual after the blow dry and hair straightening treatment. The shampoo and conditioner are ultra luxe and silky feeling. I find I need less than brands I've used recently, so I anticipate these bottles will last me a while.
After the shampoo and conditioner, I put a small drop of the Leave-In Treatment focused on my ends and then lightly everywhere, styling as usual. I haven't felt the need to add extra product in before drying, and then, probably more from habit, add my usual oil before walking out the door. That's it.
WORTH TRYING? Vote for a yes. Particularly if you've been battling dry or damaged looking hair, perhaps also from sun, chlorine or the weather, this could be a great solution. My hair feels noticeably softer, without getting greasy. I like going a few days between washes — which also helps reduce some heat damage — so glad to see the moisture isn't translating to a greasy head!
WANT TO TEST? I'm giving one reader a system to test for themselves! Super simple: just leave a comment on this post here with which of these hair threats you battle the most. That's it. Contest ends, Wednesday, July 23 at midnight EST.
PS: For more tips and hair scoop, be sure to "like" Neutrogena on Facebook, or check out the brand's Triple Repair Hair Care Center, which features amazing hair tips from expert stylist, stylist Sam Leonardi.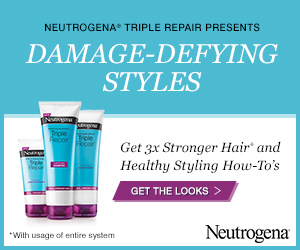 Disclosure: this post is sponsored by Single Edition Media, on behalf of Neutrogena. Opinions are 100 percent my own; I'm impressed with the results I've seen with this hair system. Thank you for supporting brands that support TAGG!