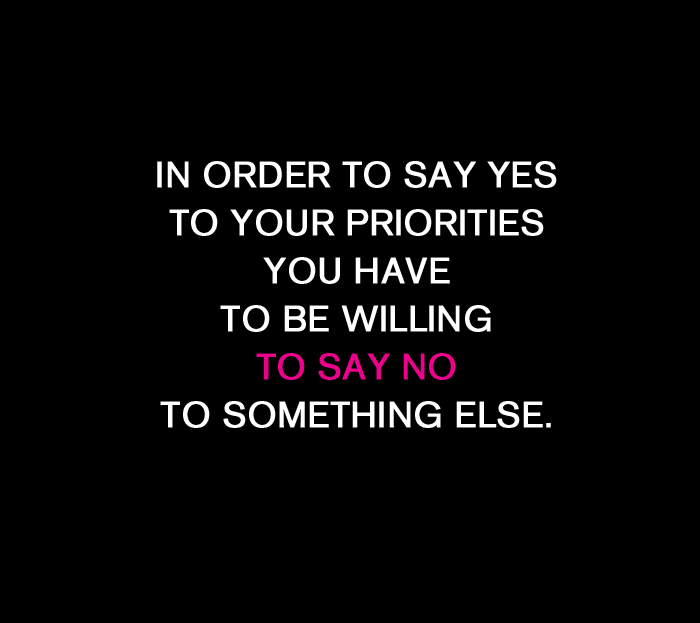 This is so true. One of the biggest challenges is saying no, but it's one of the most important skills to learn, as a professional, as a mother, as a friend, a wife, in every role you have. Every time you say yes to one thing, you inadvertently are saying no to another. Everyone's priorities are different, and it's not my place to judge anyone else's, but I've learned that time is precious and, you can't take back moments after perhaps not prioritizing in the best way possible.
Make yourself happy by doing what means most to you, not solely will make others happy. That's a tough lesson, and one that sounds slightly harsh until you realize that when you're happiest, you're creating an aura that makes everyone around you happy. Create strict with your prioritizing. For example, I used to get 5-6 blog posts up per week (as I'm sure you know) but I can't do it every week since I primarily dedicate evening time to blogging. It kind of kills me but it would kill me more to miss these moments: reading to my daughter before bed, dinner with my family, an occasional girls night out, even heading to the gym after work or wrapping up big projects at work. My blog is my passion…  I love, love, love coming here, chatting with all of you, writing and putting content out there — so that's why it stings — but every action has another action. I'm so grateful that you stop by when I share, and in the interim, I've changed behaviors as a result of realizing the impact of my seemingly innocent evenings in front of a computer screen translates to.
Anyway, I digress but I just loved this so much on so many levels when I saw it on Pinterest (where else?) that I had to share. Wishing you all a day filled with priorities that mean the most to you!