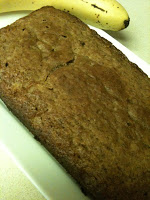 Must share this recipe with you! I've been a cooking and baking slacker lately but with at least four quickly ripening bananas on the countertop recently, I realized I needed to take action. And, fast. And, then I discovered Bethenney
Frankel's
Booboo Banana Bread
from her cookbook, The Skinnygirl Dish: Easy Recipe for your Naturally Thin Life (starts at $10 on
Amazon
!).
Bethenney is the gorgeous, totally tells-you-like-it-is, hilarious chef from the Real Housewives of New York and now Bethenney Getting Married? (though now that's she's married, where wondering what they're doing to do with that title. Ahh, I digress). Anyway…
Bethenney cooks with plenty of healthy, all-natural ingredients so you can enjoy this banana bread without piling on the guilt. The first time I made this it was such a hit that I wound up making it twice more in one week! It's delicious as a side with your lunch, as an afternoon snack or even dessert. Her recipe is included below, and you can watch her make it in this short (and witty!) YouTube video.
Ingredients: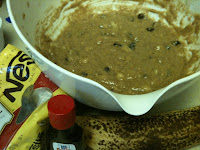 1 cup raw sugar
1 tablespoon butter (regular or nondairy)
1 cup mashed over ripe bananas (2 or 3)
1 egg
1 teaspoon real vanilla extract
1 cup oat flour (TAGG tip: I could not find oat flour; wheat flour works just as well)
3/4 teaspoon baking powder
1/2 teaspoon baking soda
14 teaspoon salt
1/2 cup semisweet chocolate chips
Directions:
Preheat the oven to 350 degrees. Combine all the ingredients in a bowl and mix well.
Cut a piece of parchment paper to fit the bottom of a loaf pan. Put it in the bottom of the pan and spray it with cooking spray. Pour in the batter and cover it loosely with foil.
Bake for 30 minutes. Remove foil, then bake for another 20 minutes, or until a toothpick inserted in the middle comes out almost clean (moist crumbs are fine).
Cool completely, then slice and serve.