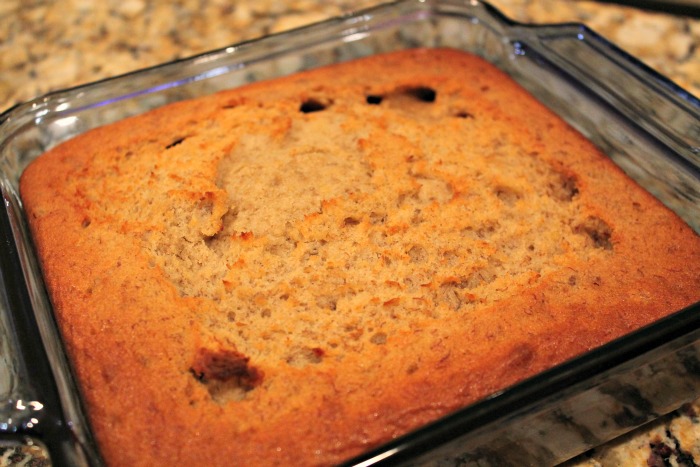 Quite a headline for the banana bread, right? With bananas at home on their last day, I quickly googled how to make gluten free banana bread (we've only been doing this gluten-free thing for a month so I don't have a clue… nor did I have gluten-free flour on-hand). While this banana bread (with chocolate!) by Bethenney is so, so good, it's not GF (gluten free). With limited time, I was intrigued by a Betty Crocker recipe that suggested using its gluten-free yellow cake mix (found at most stores). Yes, I know it's not the same as using almond flour or another 'gf' kind (and yes, possibly not as healthy and nature), however this girl had zero time and even less resources in my pantry. This was the perfect solution! It tasted awesome and we enjoyed it for days.
Ingredients
One box of Betty Crocker gluten free yellow cake mix
Three mashed bananas (about 1 cup0
1/2 cup butter, softened
Three eggs
1/2 tasp. vanilla extract
1/2 cup chopped nuts (walnuts), optional (we omitted)
Directions
Preheat oven to 350 degrees.
Grease bottom of a 9×5 loaf pan (I used a 9″ square pan, which also worked perfectly)
In a large bowl, place all ingredients and beat on low speed for 30 seconds and then on medium for two minutes. NOTE: if you see a few lumps, it's ok; they'll be fine after baking. Pour into pan, and loosely cover with foil to prevent burning.
Bake for 55 to 60 minutes, or until toothpick inserted comes out clean. Optional: remove foil for last 10 minutes for a browner top. Cool before serving.