Your drab black pants? Keep 'em in the closet for a while. Navy is where it's at.
I've been rockin' a pair of
Gap navy pants
a few days these past few weeks and I've been getting so many compliments on my outfits. (someone told me at Starbucks last week that I "look like a page out of a style magazine." I had a moment. She made my life!). My pants are hemmed for flats, so when buying new pants always, always consider what length you want; or hem to perfection. Too short or too long? No-go.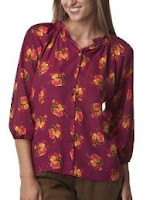 In terms of pairing, mix navy pants and dresses with other items in your wardrobe, even black. It makes pink, purple, red and yellow POP and looks fabulous with various patterns. Don't be shy; your top doesn't need to have navy in it and no, you don't need to wear navy shoes… grey, silver, gold, brown, they're all a gorgeous fit. No more matchy-matchy.
For example, I recently paired my navy pants with this Tucker for Target blouse to rave reviews. On a related sidenote, I'm ordering you to purchase this blouse for just $20 (!) at Target right now. It's available on line or check out the store's 30 percent off racks. I don't love the pants paired with it in this picture however pants, skinny jeans or tucked into a skirt (maybe orange for a bold look?) will make you instantly chic. A fan of Tucker's clothes complimented me thinking this was the real thing. She was shocked — and then darted to Target — after realizing this was the designer-for-less look. The quality practically feels like the real thing.
Point being with this blouse is that it's not an "instant" match to navy pants but the mauve totally works with navy. Look in your closet, and just start pulling items that could work.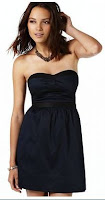 And, if you're looking for something a little more fun and flirty, check out this adorable
American Eagle
midnight navy and black-trim dress, a steal at just $39.50.
You can pair navy with black, but it just has to be in the right situation and there has to be a difference between the tones. Of course it's ideal when the matching is already done for you, in the case with this adorable dress that has a slight shine to it. You can even wear this daytime with a cute blazer or cardigan.
Now, go get your navy on!