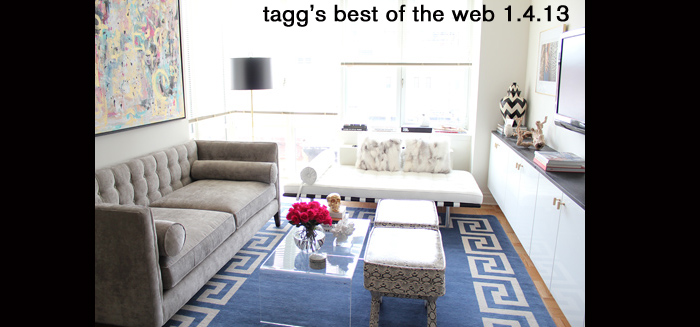 Since I fully just pinned Jen's entire house, thought it deserved a shout out. Seriously, that couch. Come home with me.
Proud of Lynzy for changing the direction of blog… as she changes. She's so spot on in this post.
I have not started this year eating like I'd like; healthy! Caitlin's helpful 'detox' post is required inspiration.
Blog or want to? This is a must read if you want to effectively create/build your brand.
InStyle dishes on its favorite beauty products to save your skin in the winter. Love the "Yes, to Carrots" brand.
Obsessed with these top 10 IKEA hack jobs of 2012 (Jen, mentioned above, has a covetable one, too!)!
Must make this easy/delish meal for dinner next week. Looks. so. good.
How to create a gallery wall. Love.
New year, new job? Check out these interview tips. As someone who just received dozens of resumes and interviewed candidates, please watch your email subject line, customize your cover letter (you want a job, do your research and I promise you'll stand out!) and be sure to send a thank you note (bonus points for snail mail).  For more, check out TAGG's post about writing an impressive resume and how to network like a pro.
HEADS UP: Neiman Marcus x Target collection is 70 percent off (+ ships free!)! Forgetting the brands for a sec, just adore these: I got this full price; now it's a cozy must for $9. And, so excited that I just snagged this for a hopefully forthcoming bar cart, and this (love you DvF!) and this? So, so tempting!
PS: compelled to share I'm seeing Jerry Seinfeld. Ya know, yada, yada, yada, nbd. {ok truth: so excited!}