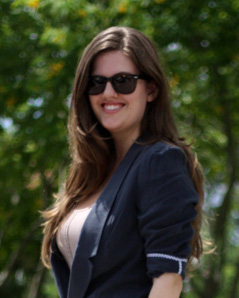 Meet Kara. She's a very cool blogger who lives near me in (still kind of steamy) South Florida! I finally met her at the Blogger Brilliance conference and she's so sweet and fun. A freelance graphic designer, she started her blog Sprinkles in Springs as a way to share love of fashion with others when she had time between work (or wanted to procrastinate!).
As someone who would be asked where she found her clothes, starting a fashion-focused blog featuring lots of her stylish looks totally made sense. And a perk? Unlike me who knows embarrassingly little about design and web sites, this gal can do it all with her design skills! Kara's a Florida girl (one of literally a handful that were actually born — and still live! - in Florida), who loves traveling to switch up the scenery when she can.
While her must haves are a bit out of my regular price range, totally take her ideas and translate them for whatever budget works for you. So….In her words, her 5 fashionable must haves of the moment!
1. Luxurious Textures
For fall, I'm looking forward to wearing pieces with materials outside of my normal scope. I already have a fur coat that I bought last year (which is one too many for south Florida), but if I didn't, this one would be mine! I'm also feeling the velvet trend— it's a must in jewel tones. I also think these silky shorts are so glamorous, and when it gets colder, you can wear them over some opaque tights and boots. These textures remind me of the costumes in old Hollywood films, but worn a modern way.
2. New Sunglasses Silhouettes
One accessory people often overlook is sunglasses. They can really transform your whole look without needing to over-think the rest of your outfit. Imagine you're in a hurry and just have time to throw on a tee and jeans— throw on a pair of unconventional shades and people will take notice of your effortless chic.
3. Wide-Brim Felt Hat

I've never been a hat person until about a year ago when I purchased my first floppy felt hat from American Apparel. It seemed like a lot of money at the time since I truthfully didn't think I'd wear it all that much, but boy was I wrong! Now I'm on the hunt for a great one in a jewel tone.
4. Statement Jewelry
Red Nugget Necklace $60
/
Green Earrings $48
/
Black Arty Ring $250
/
Green Arty Too Ring $295
/
Black Onyx Necklace $178
Ever since I got my look-a-like YSL Arty ring from La Dama, I've been wearing it constantly. I never knew statement jewelry was so much fun to wear. Keep in mind, don't go overboard with it and keep your outfit styling in mind so things don't clash or look overdone. These pieces, like the sunglasses above, will totally transform your look.
5. Sparkles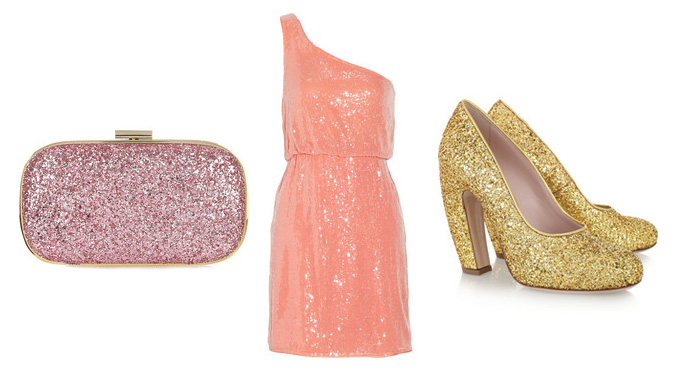 I'm a girl and I like sparkles. What can I say? After going gaga over the new Miu Miu glitter booties, these lower-key gold ones caught my eye after seeing Garance Dore show them off on her blog. And you always feel like a million bucks when you're glittering, so why not. Do glitter on your accessories and sequins on your clothes (not at the same time) and you'll sparkle your way to the new year!