Wow, sensational is promising a lot in the headline, huh?
Fingers crossed you like this as much as me.
I've been wanting to share more easy yet deliciouso recipes with you ladies yet time gets away from me.
It's one thing to take the time to cook, it's another to coordinate prep, photos and the actual post as well.
Saw a very similar version of this recipe on a recent Hungry Girl post
(remember
Hungry Girl
? My love/inspiration who's been getting major airtime on Food Network!).
I often don't buy salmon because I'm very particular about it and afraid I won't get it right,
yet this is basically fool-proof (my kinda cooking!)
Next time, think I'll mix up a few different veggies instead of just opting for broccoli.
Really thrilled with how easy this was and that the salmon turned out so moist and flavorful.
[Ingredients]
4 tbsp. Newman's Own Lighten Up! low fat Sesame Ginger Dressing (or similar)
1/4 tsp. chopped garlic
Two 4-6-oz. raw skinless salmon fillet
broccoli/sugar snap peas/similar
1/2 tsp. sesame seeds (if you want to sprinkle on at the end)
[Directions]
Preheat oven to 375 degrees.
In a wide bowl, mix dressing with garlic. Place salmon in bowl and gently flip to coat.
Cover and refrigerate 15 minutes.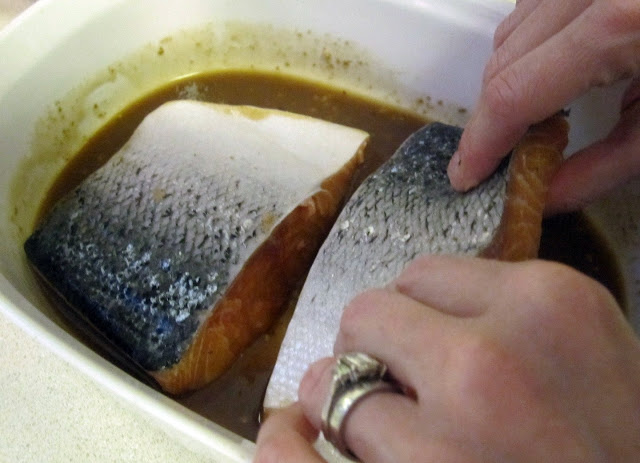 Lay a large piece of heavy-duty foil on a baking sheet and spray with nonstick spray.
Place broccoli in the center and top with salmon — I bought a bag of broccoli and was nervous about using the whole thing; remember that it shrinks a ton when cooked so load it on.
Pour remaining dressing mixture over salmon.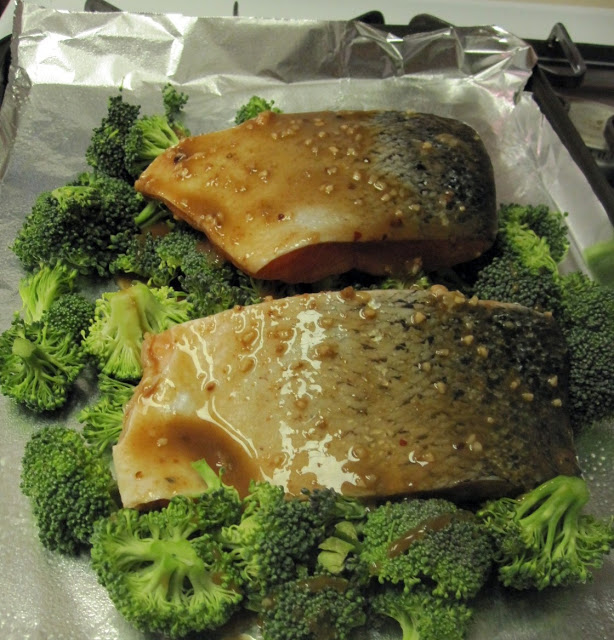 Place another large piece of foil over the top.
Fold together and seal all four edges of the two foil pieces, forming a well-sealed packet.
Bake in the oven for about 15 minutes (until broccoli is tender and fish is cooked through).
Allow packet to cool for a few minutes, and then cut to release steam before opening it entirely.
(Careful — it'Äôs hot inside there… like a sauna.)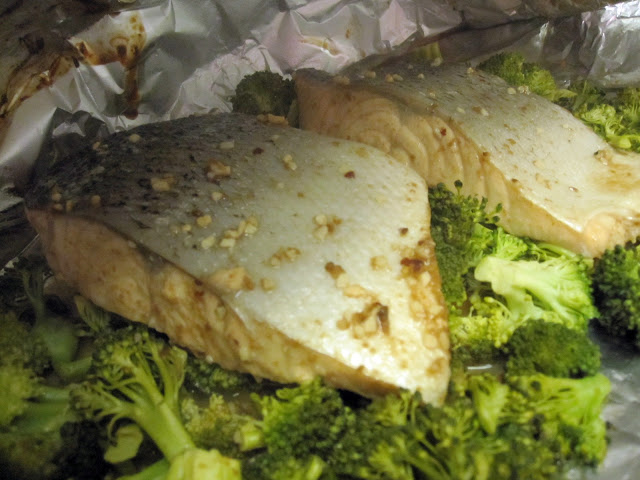 Voila! 
Enjoy! I did…
(ps: would be awesome with rice or another starch; we were just trying to be extra good!)