Today's beauty inspired post is from Katie of Martinis and Mascara, who this year was runner up in an Allure Best Beauty Blogger contest. Amazing, right?? What do I adore about Katie? The list is fairly long as I've known her for years through our other worlds — she's a reporter and I spend my days pitching her events and stories! — yet she never even mentioned her amazing blog; she's just so low-key and sweet! The secret is out after she spilled about how she got to raid Allure's beauty closet (umm, hello this!), so I pretty much made her share a post here this week. She did not disappoint! Check this out… 
Hi, Katie here! At any given time I have about 25 lip product tubes collecting at the bottom of my purse. Most are total impulse buys (they always keep the lippies by the register!), but a handful are my tried and true favs. If I narrowed my lip stash down to only five products, these are the beauties that would make the cut. Pack these staples in your kit and you'll be set for almost any occasion!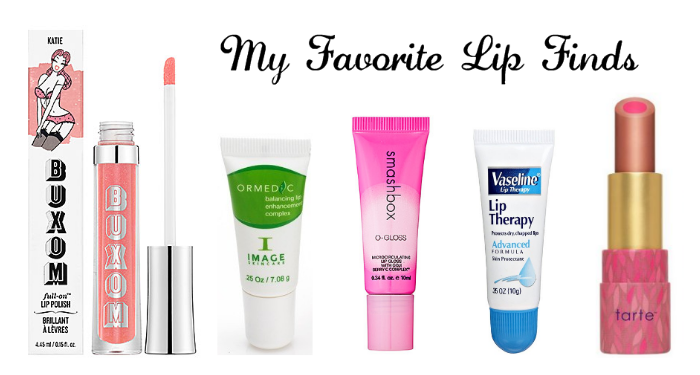 IMAGE Ormedic Balancing Lip Enhancement Complex
This stuff is magical. I apply it nightly before bed and wake up with supple lips in the morning! IMAGE's Lip Balancing Complex adds moisture and volume while reducing fine lines. You can use it throughout the day whenever you need a serious moisture surge, too. It's a smidge pricier than my other fav finds, but it's way worth the splurge.
Vaseline Advance Lip Therapy
I prep my lips with this before applying any sort of lip color. It is one of the best products I've found to eliminate chapped lips almost instantly. I like the Advanced Lip Therapy in the tube for ease of application, but Vaseline also makes a killer cocoa butter lip therapy variation an adorable mini Vaseline tub. Aww!
Smashbox O-Gloss Intuitive Lip Gloss
This is my go-to quick fix gloss I apply if I need to put together a natural, polished look in a hurry. The non-tacky gloss glides on smooth and morphs into a perfectly personalized pink hue.
Tarte Complexion Brightening Lipstick
I discovered this new lip treat via Glossybox last month. It climbed to the top of my list pretty quickly with good reason! The texture is extremely creamy and the two toned core provides a plumping illusion without the tingling. Tarte offers the complexion brightening lipstick in two shades, one for fair toned gals and one for those with tan skin. Each shade is extremely flattering and great for daytime wear.
Buxom Big & Healthy Lip Polish
The Buxom Big & Healthy lip polishes look beautiful alone or worn atop your favorite lipstick. These sheer glosses plump your pout and provide a high-shine finish with no stickiness. I like to use these to tweak lip colors that might be a little overpowering as well. Have a deep red lipstick that looks a little too harsh on you? Add a swipe of a lighter Buxom Lip Polish to soften and diffuse it. The collection features an expansive range of colors perfect for any occasion. I have just about every shade in the Big & Healthy Polish line, but my absolute favs are Dolly, a flattering shimmery plum, and Katie (go figure!), a soft pale pink.
{ 2 comments }