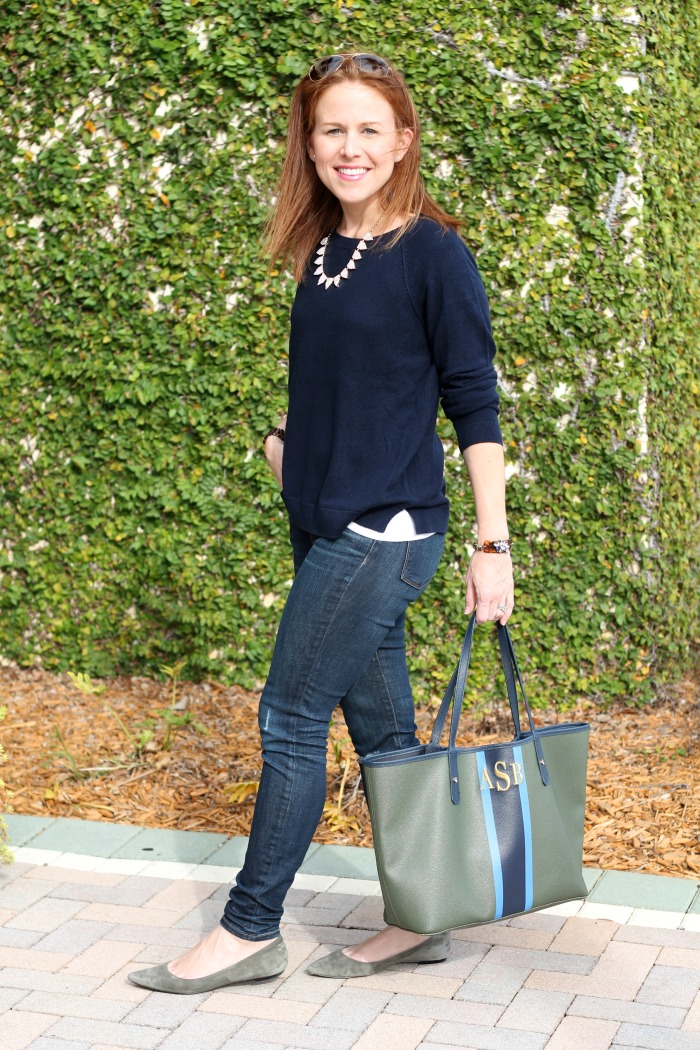 This outfit is so me. Denim, casual top, a little bling, and flats. I realized I don't wear flats in outfit posts nearly as often as I do in real life. Plan on changing that. As much as I show you my real outfits, they're often the ones I like best, think will photograph well, and often include a pair of heels, when in reality I'm in flats  4 or 5 days each week. Beyond helping go fast on crazy days, I'm just plain clumsy. No joke. I walk into walls, multi task when I shouldn't, it's really ridiculous.
If you're not a flats girl, promise you that a pointed toe flat looks ultra chic, is flattering to the leg line and can be way comfier than a pair of killer heels (bring those in the car to swap out if you need!). And, if you have larger feet, it still works: I'm 5'3, and wear a size 9. I'll be sharing more pointy toe favorites later in the week; until then, here's a recent outfit during a cooler snap we had in Florida.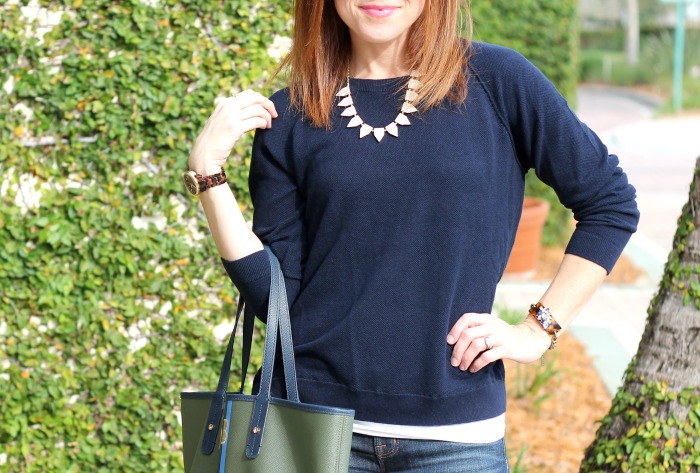 raglan sweater: c/o everlane // denim: j. brand (similar; look for less) // flats: kenneth cole (love this or this) // tote: c. wonder (color/print options) // bracelet: c/o baublebar x anthropologie // necklace: baublebar (sold out; rectangular version here) // ring: baublebar
By the way, this sweater is by this new-to-me brand called Everlane. They're focused on making classic pieces well… without the mark up Amen! Think perfect sweaters, sweatshirts, tees, and now bags and more. This sweater is ultra cozy, has a cozy feel yet you can tell it's well made. I'll definitely be checking out tees — which are mostly just $14 — as the temperatures continue to heat up.