I've been dying to make my own granola bars for ages. I eat store-bought and often think, wow, this tastes artificial, sugary, etc., or I'm still totally famished 20 minutes later. When I was chatting with food contributor and photographer Libby about a few fun recipes we could share here (remember the caesar brussel sprouts and the homemade jam so far?), learning how to make — and then share with you! — homemade granola bars topped my list. Perfect for breakfast on the go, it's also a great snack for anyone. Here Libby gives us the rundown how she made these yummy treats…
If you're concerned about what's in your granola bar, then it's time for you to make your own!  My one plea: know what's in your honey and buy raw honey if at all possible. It's worth it.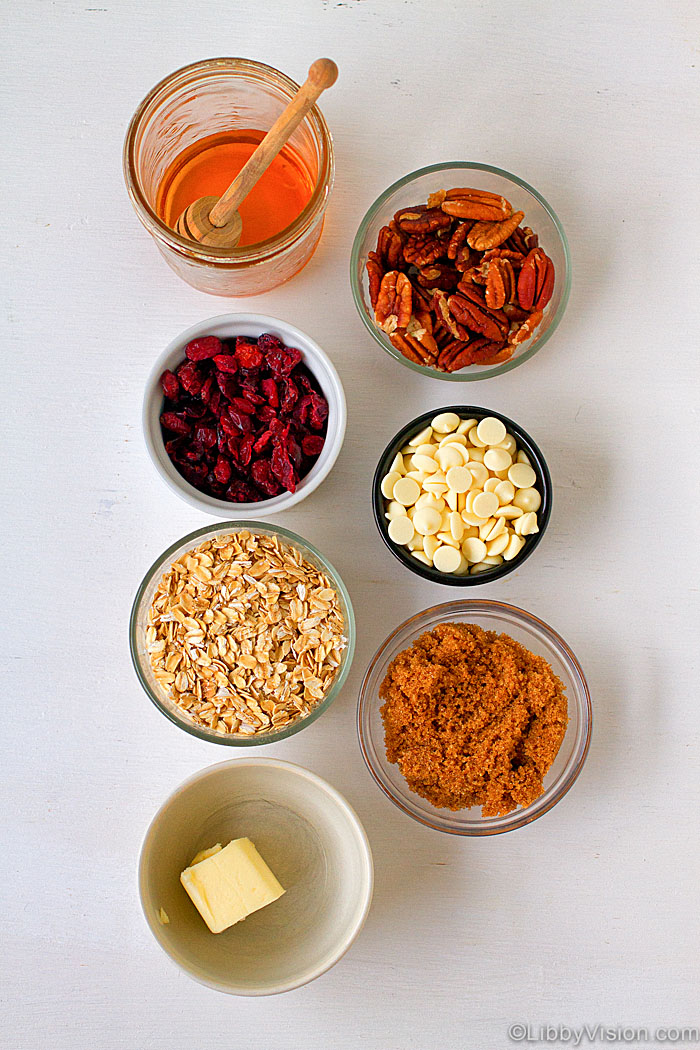 Learn how to make these homemade granola bars (there's hundreds of variations!), right after the jump…
Ingredients*
1 cup nuts (mix of your favorites)
1 3/4 cup of oatmeal
2 Tablespoons butter
1/2 cup brown sugar
1/3 cup honey
1/4 cup molasses
1/2 to 1 cup dried fruit (combination of raisins, Crasins, dried apricots, etc.)
1/2 to 3/4  cup assorted chips
* This recipe is as forgiving as you can get. Like coconut? Toast it and throw it in. Want to add peanut butter? Sure, go for it! Add some breakfast cereal for more crunch. Watching sugar? Decrease the brown sugar. Try different combinations of fruit, nuts and chocolate chips (ahem!) and create your perfect bar. My fav. is the white chocolate-Craisin-pecan-macadamia nut but I like the chocolate chip-almond-raisin as well. Go wild.
Same philosophy goes with the liquids; I've made these with all honey and no molasses and they're delicious too.  There's lots of room for improvisation here. Just work with a good liquid to dried goods ratio, try not to overcook them and enjoy the result!!
Directions
1.     Chop the nuts down to desired size, leaving some nice chunks.
2.     Preheat oven to 350 F.
3.     Butter 8 X 8 pan.  Line 8 X 8 pan with parchment paper and butter generously. Then butter it some more.
4.     Toast the nuts and oatmeal in pre-heated oven for ten minutes, mixing occasionally. Remove promptly to prevent any almonds you might have included from burning (those turn into carcinogenic chards as soon as you turn your back).
5.     In small saucepan over low heat, mix together butter, brown sugar, honey and molasses, stirring occasionally until melted.
6.     Remove from heat and let cool a few minutes.
7.     Pour oats and nuts in medium bowl and pour butter-honey-brown sugar- molasses mixture over oats and nuts and mix well.
8.     Add dried fruit and chips and continue mixing.
9.     Press into the pan. Use your hands (or better yet, take a piece of wax paper and use it to press down) and do a REALLY good job of pressing down. If you don't press down hard, you'll make granola, not granola bars. (Which is darn tasty too!)
10. Bake in pre-heated oven for 20-22 minutes. Don't be like me and leave them in the oven for just a few more minutes while you put away laundry – you'll be sorry when they're too brown.
11. Let cool a few hours and cut when they're nice and cool.
 TAGG TIP: Use LOTS and LOTS of butter on the parchment – otherwise you'll be sorry about that too when it's stuck to the bottom of your bars.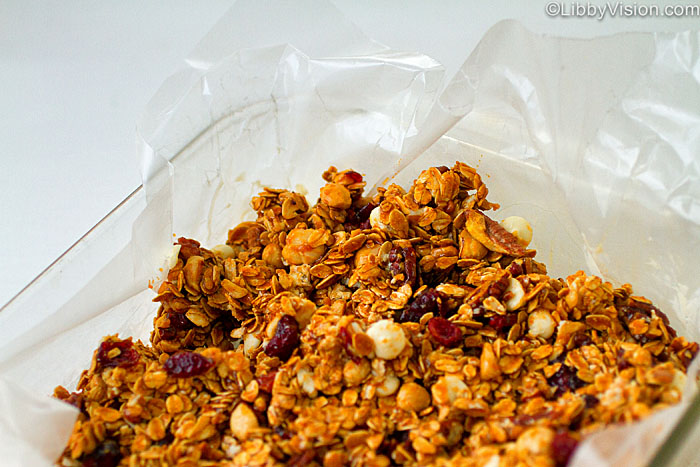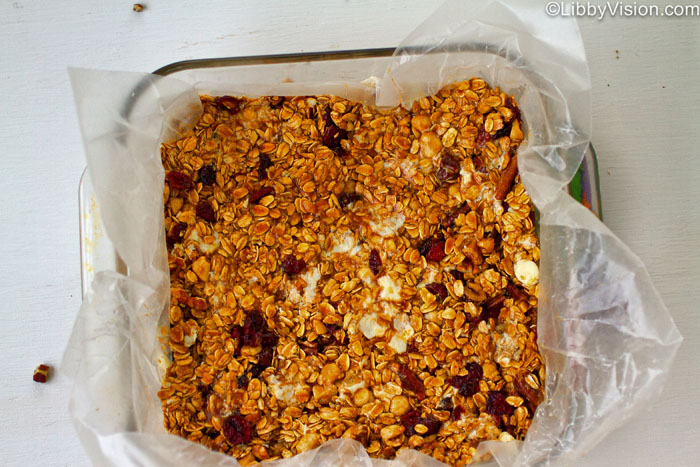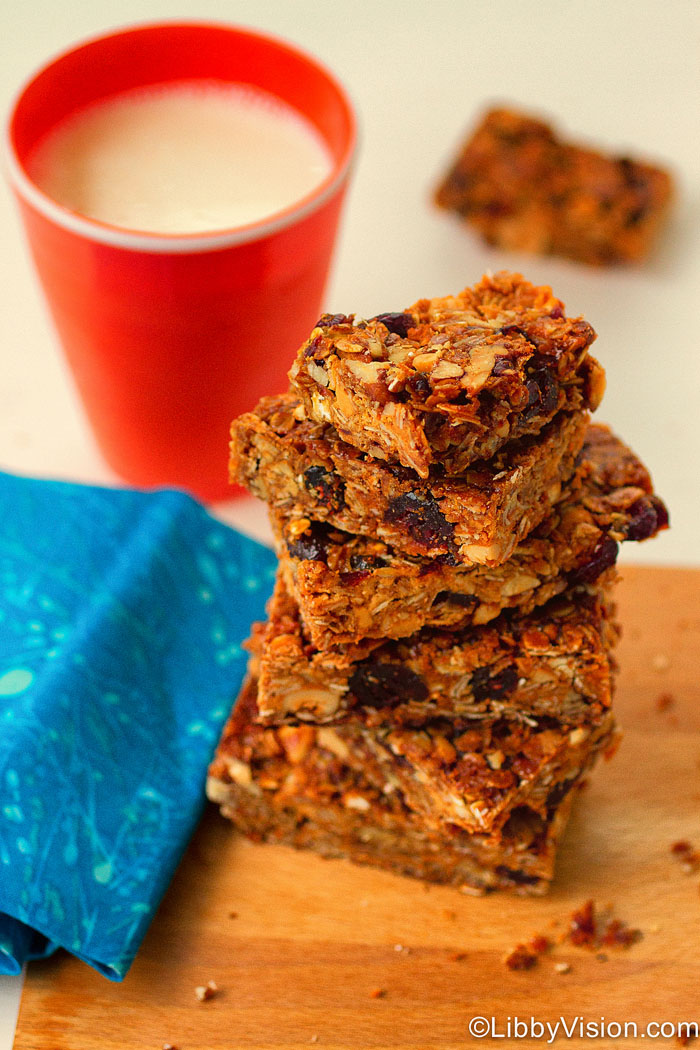 Who else wants to pin the heck out of this (and then hopefully make the recipe ASAP)? YUM! Thanks again to Libby for sharing another delicious recipe! Have a recipe or idea for a food post you think others would like to see, too? Send me a note at [email protected]!