DIY: Spring Bling Bracelets
Welcome back DIY contributor, Erin, of Thanks, I Made It, for a bracelet I am so ready to add to my arm stack (would love this with my white MK watch!) to add a little color to any outfit. Don't worry if this matches… just leave it on for the long haul… err, at least until mid-September. Take it away, Erin….
ERIN: When I saw this 
bracelet
 from Chan Luu, I knew I had my next DIY. Spring is around the corner, and what better heralds in the season than a brightly woven piece of wrist wear? (PS- you could easily use extra crystals to make these 
earrings
 with these 
simple steps
!) You could use a single color of cord, but I like playing with two different colors for a bright look.
Tools and materials:
Baguette or rectangle shaped crystals/rhinestones in sew-on setting (I used
these
)
Scissors
Tape
Clear nail polish (optional, but helpful!)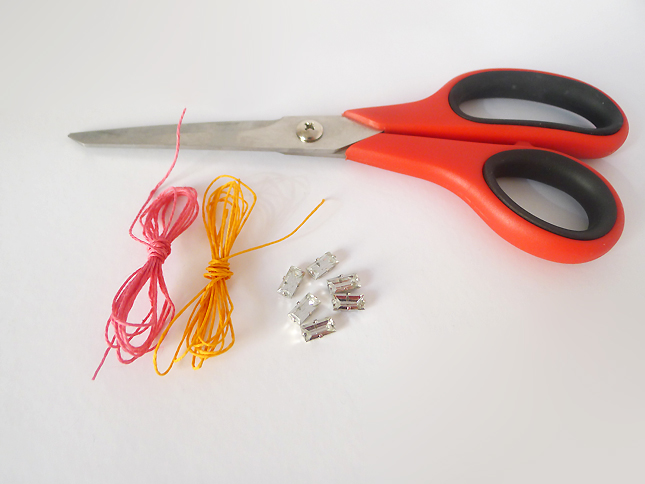 Cut each color of cord into a 54-inch piece. Knot the strings together so that you have a tail of each color at least 9 inches long, with two long tails.
 Tape the knot end in place, and then secure the short tails of string to your surface as well. At this point, it's helpful to rub a drop of clear nail polish onto each short end of the string and allow to dry. This will prevent the string from fray.
Begin knotting the string using a basic square macrame knot. You can check out a
video on it here
. The trick to a two-colored macrame is that you want to always use the same color string to make the first loop (in my case, orange), alternating sides for each knot like in the photos above. By doing so, I kept the strings in the middle orange and the loops along the edge pink.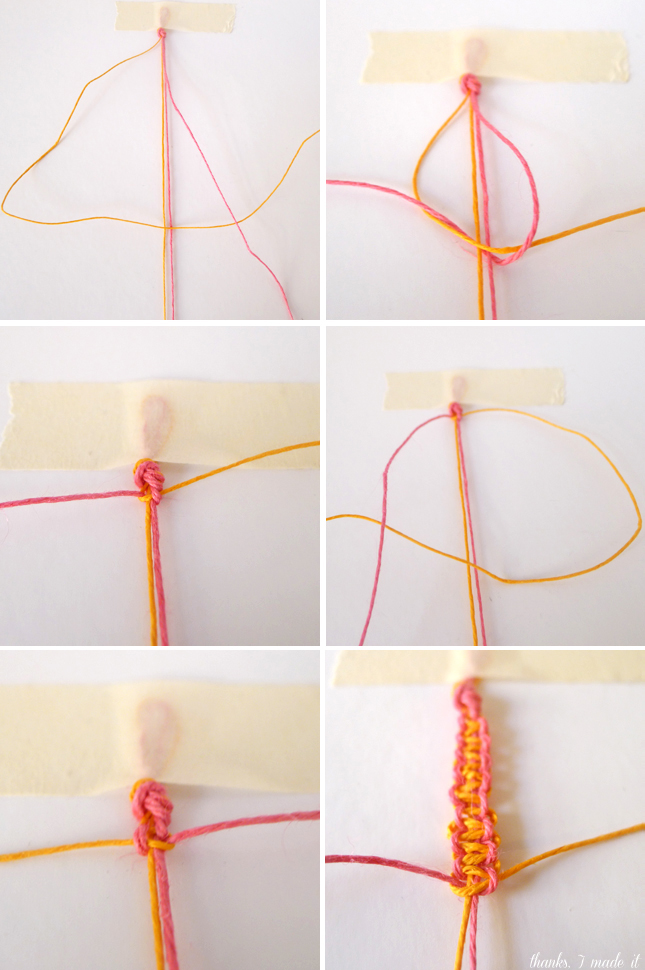 Once you've knotted about 2 inches of your bracelet, slide one of the sew-on crystals onto the short center strings by threading through the holes in the setting. Form a knot around the crystal.
Pull the knot tightly, then tie a second knot. Add a second crystal like before. Continue alternating knots and crystals until you've added enough.
Finish off the bracelet with more square macrame knots. Tie all four loose ends of string together into a simple double knot and that's it!