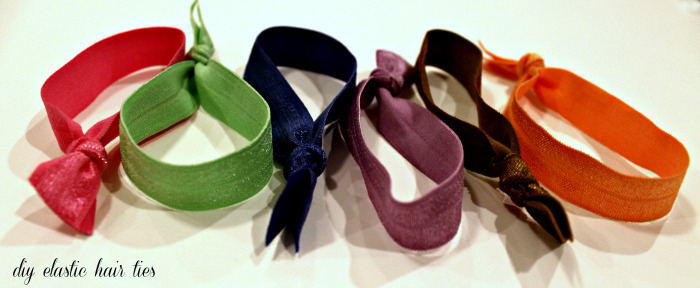 Ya know the elastic hair ties in a million colors that everyone wears around their wrist? There's a good chance they're Emi-Jay, the "designer" elastic hair brand that  can cost $10-$12 for just five, max. I've been wanting to make a more affordable version — and headbands, too — when my good friend P suggested I do so, and led me to an Etsy shop selling satin elastic. Perfect! This is the fastest DIY, and doesn't require much patience or attention (so hint: you can watch the housewives, or kardashians, at the same time). All about the smart multi-tasking!
All you need:
Yards of satin elastic, 5/8″ wide (I purchased 10, one of each color, there's dozens, at Elastics by the Yard)
Scissors
Ruler (but you can get away without)
Instructions:
1. Cut elastic to about 11-12″ lengths, hair thickness considered.  One yard with yield three hair ties. Use approx. 18″ for headbands.
2. Match up the ends and tie into a knot toward the end, with about 1″ at the end.
3. Cut the ends at a diagonal.
4. Ta-da!