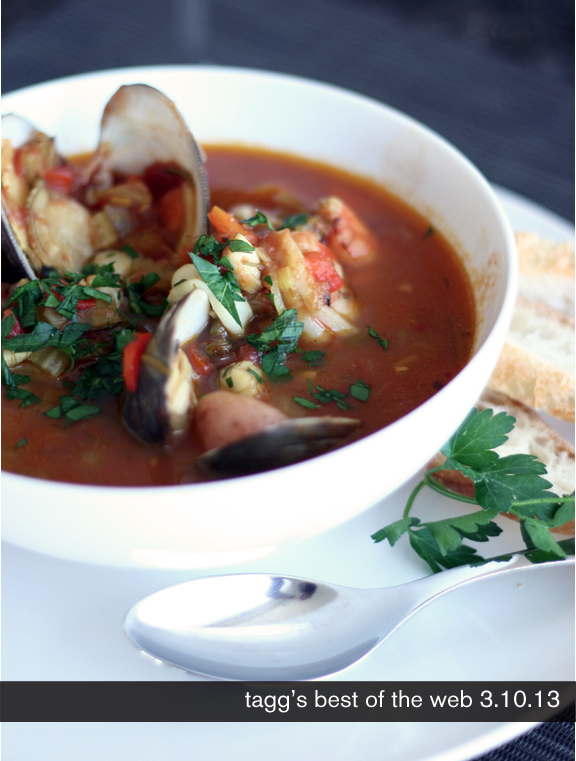 Victoria whips up one of our favorite dishes: seafood stew (delicious + healthy!).
I've ALWAYS wanted to do this, and naturally one of my fav bloggers did it… add a zipper to the bottom of your jeans, no sewing required!!
OK, these DIY Lulu Frost crystal earrings by Erin need to be on your ears, ok, and mine. STAT.
Meg (who I just might have a blog/girl crush on!) shares 6 blog columns she's loving lately. Such good recs.
A worthy read: How to Miss a Child: The Dangers of Paying More Attention to Your Cell Phone Than Your Child.
Lauren of Seventeenth and Irving deserves major props; her content is good (seriously, ladies, check it!), and now she just did a beautiful redesign.
Closet inspiration/lust-worthy examples right this way, plus Nicole shares a few ways to chic-up your space!
Jenni's decorating her new NYC condo, and realized we have the same exact taste! Striped rug inspo here, plus check out her art finds? Want. All.
Thank you to The Budget Babe, Dianna, for including TAGG in its Weekly Fashion Links round-up for our DIY elastic hair ties (especially since we're among  more than a handful of our personal fav bloggers!)!
DEALS: A baseball tee with leather sleeves for under $20? OMG, my dream became reality! And, Target's amazing new home line, Threshold, is having a major sale. Coincidentally, I just purchased this bathmat with coordinating hand towels yesterday.
Ironic considering the "deals" above, but appreciated this living with less editorial the New York Times.
{image}