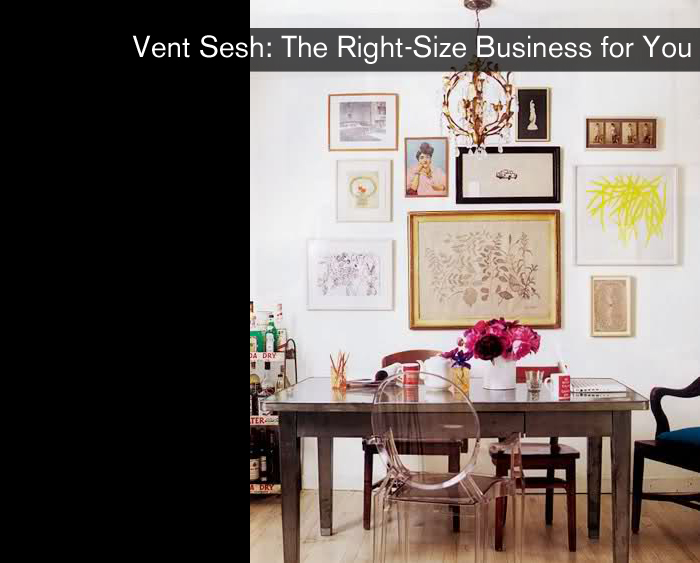 This Vent Sesh is about the need to supersize everything. First it was food, then televisions (coincidence?), bigger homes, cars, everything.
Right now, in my life, it's about business. When are we OK with what we have? I remember someone told/warned me when we got engaged that every question will turn to marriage, and then immediately to having a baby. You think you've quieted the masses when you have a baby, but no, it's when are you having another. Clearly it's not OK to just have one… and that it's ok to keep asking (psst: it's not; read this Vent Sesh about stop asking questions).
Lately, the "bigger is better mentality" has translated to work. And, I can't get it to stop.
Whether you own your own business (including a blog) or work for a company, do you get the sense that there's always the need to grow? How are your financials? Are you bringing in more business, more clients? More readers? How big is your office? But, what's this need for more and bigger, as long as you're making the salary you want and are happy with what you're doing? I'm trying to soak in this moment, the success we've had, yet all other people want is… what's next, how can this grow?
I'm so grateful that my day job  - the PR/digital media firm — is doing so well. Honestly think my less than three-year old company is doing pretty awesome (especially since three years ago I never envisioned this): we have amazing clients, a great team, love our office space, and… a savings account!  I'm so happy where we are. My Type-A, constant need to over-deliver personality actually wishes we could give each client more service (any client reading should please disregard! ha). I'm in the moment right now where I only want to take on new meaningful new clients where we feel a strong connection; not because the company should grow or is desperate for cash (thank goodness). There comes a point when every business owner must decide the strategic vision of its company. I've determined recently that I don't see our company growing to 75 employees with four offices; at least not with me at the helm.  I want to own a really strong smaller company with an excellent reputation and broad reach. And, if a girl can dream, I'd kill for the opportunity to represent bigger retail projects (there's so few in this area).
The same goes with the blog: there's always talk about how bloggers can get more visitors, increase page views, the need for more unique visitors, etc.  In a way, I have a "bigger" vision for the blog than my PR company, largely because since it's e-based there is the capability to reach more women. At the same time, I'm so grateful for the moment I'm in, for you whose reading this and oh my gosh, the experiences this "little blog" has afforded me. I'm lucky, and so, so happy. 
So what do you think…? Is bigger always better in business or does it depend? Have you given thought to your company, or the type of company, you'd like to work for?  I've met other women who only want to work with larger companies (and perhaps, larger resources), while others prefer the flexibility smaller businesses offer. What kind of girl are you?