Blog "outfit" update: I'm going to start posting a weekly compilation of my daily outfits to give you a real look at what this gal wears (thanks to so many FB friends for the encouragement). I work full-time from home so prepare yourself that the outfits will range from business to casual (think pjs!)… hey, that's me for ya!
Today's outfit: DOUBLE DATE NIGHT!
We recently enjoyed dinner and a movie on a 'semi-blind date' where my husband knew the guy, but I hadn't met him or his wife. Always makes me a little anxious and eager to meet new people.
Wanted to be casual yet cute since we were doing Thai for dinner and then seeing The Hangover II.
I started with a pair of leopard flats that I've been constantly wearing after recently scoring them at a thrift store (thanks to Jodi from Live FabuLESS for sharing her local spot!).
Paired it with this chambray tunic, dark jeans, my fave accessories (inc. my new white MK watch - obsessed!), and ta-da! Outfit complete.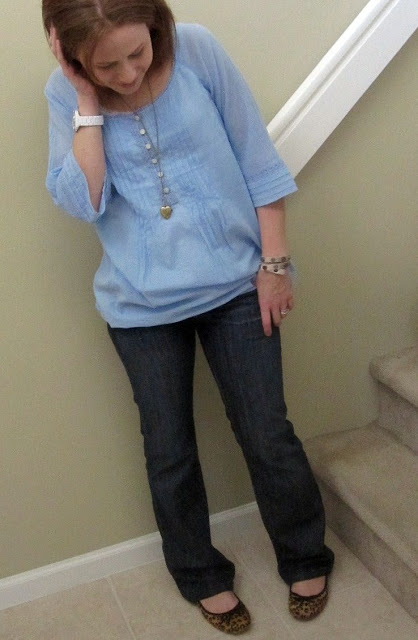 I should mention that we had the best night with this new couple. And, the wifey? A blogger! And, a super sweet, adorable one at that! Seriously, very exciting for moi. (Shout out to Lauren from Baylor Says, an awesome interior design lifestyle blog that also features funny little musings from her little boy, Baylor).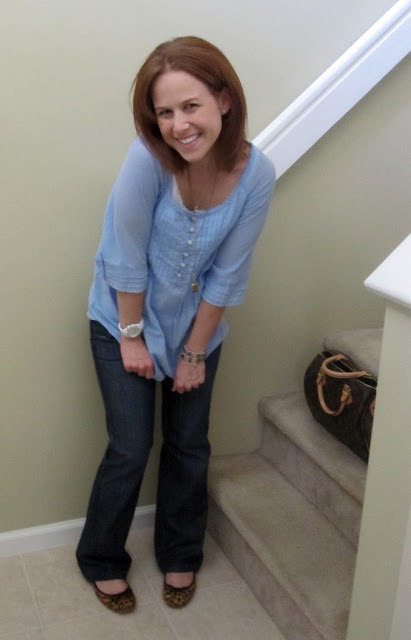 PS: Have I ever mentioned my popcorn addiction?
It's brutal.
And, it's in full effect at the theatres.
Luckily, I absolutely refuse to pay the crazy prices for a popcorn and soda. I often bring snacks (even a mini bag of popcorn! haha) but sometimes I treat myself to a theatre kid's pack. Just $5.25 for this deliciousness — and great portion control! Perfect amount of popcorn, soda and skittles, oh my!
(PS: Monster thank you to the hubs who takes my photos including this one in the theatre! He's the best!)
tunic: old navy / cami: gap / jeans: loehmann's / flats: kitson l.a. - thrifted / bag: lv /
watch: michael kors / heart locket: jewelmint / leather bracelet: tory burch
Wishing all you gorgeous ladies a very Happy Monday!