Meet Lauren. I'm assuming this hot chickie looks familiar to you by now. That's because I gushed about meeting her during a movie date this spring and then we hung at a recent bloggers night out. If you want a smart, sweet-as-pie, funny-as-anything gal, you found your new pal. And, if she wasn't already cool enough, she has a kick-ass blog called Baylor Says that's an interior design-lifestyle hybrid where she also shares hysterical musings by her son, Baylor. This girl is one of my favorite new friends, by far!
I love her design posts, how she has a knack for scoring fab finds at consignment shops and even moreso, how she has parlayed that in to a new column called, "trash or treasure," where she polls readers each week on a thrift store find. While she refers to herself as an amateur/wannabe interior decorator fancying up her house one item at a time, I say she's downplaying just how wonderful she is. I totally recommend you stop by her blog… after you read about her 5 must haves, of course!
In her words, here's Lauren's 5 must haves of the moment…
Hi there fellow TAGG enthusiasts! How great is this blog?  Alyson is super awesome and not only do I LOVE LOVE reading her crazy insightful blog (which is like carrot cake…delicious and good for you, am I right?), I'm thrilled to count her as a real life friend.
I was ridiculously flattered when such a fun chick asked me to participate in her 5 Must Haves. How to narrow it down?? I mean, I must have coffee. Then of course I must have toothpaste…I can see I'm already losing you. Okay, my very FUN must haves. Those little things that make life worth living. Let's do this!
SOTHY's MORNING CLEANSER: One of the teeny tiny downsides to having my precious little Peeps 2 years ago is that my skin went haywire!  My perfect complexion disappeared overnight and as such I have searched high and low, tried seriously every single product that was ever made and Sothy's Morning Cleanser is the only thing that keeps my skin in check.  It's a little pricey, but totally worth it to me. TAGG note: Lauren actually didn't play by the rules and listed about nine or so awesome products. I made her reign it in, haha, so I suggest you go stalk her at her site to force her to share with you her other finds!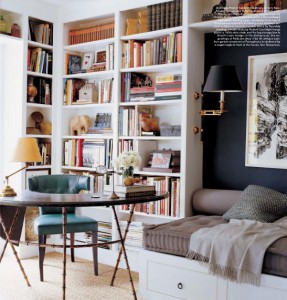 BOOKS: Oh man, I love to read so much its not normal.  I will read ANYTHING.  Can I read in this little nook right here, all day long please thanks?
ETSY: What did we do before Etsy?  I thank God and all the tiny little stars above that there are craftier, more creative and capable people than I out there and that they are willing to sell me their incredible ideas at a reasonable price. My favorite shops of the moment: 1. Ice Cream Candy / 2. ileaiye / 3. Fiazco / 4. Sparkle Couture / 5. Willa Skye Home / 6. African Grey.

THE HUNT: Oh, I must have the hunt.  It thrills me! If you read my blog, you'll know immediately that I spend every available free moment trolling through thrift stores, flea markets, consignment stores and combing over estate auctions for exciting finds.  Furniture, home accessories, you name it…I will always love it more if it's vintage, special and a steal.

WHITE: Oh how simply wonderful would life be if everything was white and bleach flowed like water?  Seriously, people gape at my son in his white pants, shirts and shorts.  Are you kidding?  I find white to be the greatest thing that ever happened.  Prints are super fun, but let a drop of spaghetti or a cruel grass stain hit and it's all dunzo.