Are you about to hit panic mode because you have a Super Bowl party to hit up (or a night on the couch with the hubs) and nothing to eat? Well have no fear young lasses, I'm sharing my beloved Super Bowl Seven-Layer Dip.*
*Note: remove the word "Super Bowl" and it's pretty freaking awesome all-year-round.
What's so fab about this dish — beyond that it's sooo freaking good — is that it's so yum warm and at room temperature, so no worries about it cooling before halftime. And, better yet? I make this dish on the lower fat side and I swear that not one big burly guy or girl has noticed. I don't necessarily recommend fat free cheeses, etc., but lower in fat and calories so I can indulge in some beers? I'm all about it. We bought the new Blue Moon spring ale… very excited to try.
Ingredients
Bowl… pick one and then gather the amount of each ingredient based on the bowl's size.
Fat free refried beans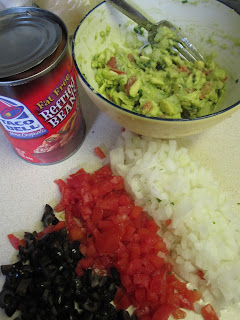 Low-fat sour cream
yellow onions, chopped
tomatoes, chopped
guacamole (homemade: by you… or Whole Foods)
black olives, rough chop
shredded mexican cheese
tortilla chips: I go for the Tostito Scoops
Directions
Preheat oven to 325 degrees.
Grab your round bowl, clear if you have one.
Layer at the bottom refried beans, thinned by 2 tbsp. of water.
Spread sour cream on top of beans.
Sprinkle on half of your cheese.
Layer on the guacamole.
Spread tomatoes on top and then the onions.
Sprinkle on chopped black olives.
Place the remaining cheese on top.
Cook for 20 minutes, just until cheese is cooked.
Dish is best served immediately.
Enjoy!
xo
Alyson