In the past few months, with a spare second here or there, I've been working to make some visual and functional improvements to The Average Girl's Guide. I'm so grateful you visit me in the first place that I must make it as pretty as possible! There's now fun grey chevron, a prettier logo/header image and an easier-to-find nav bar, plus I've added a "Wants" page (seen below), featuring some of my favorite finds from around the web. Most are on the way affordable side, but there's a few splurges… a girl can dream.  And, a huge thank you to my super talented friend and graphic designer, Aly, who helped me create the vision I had in my head.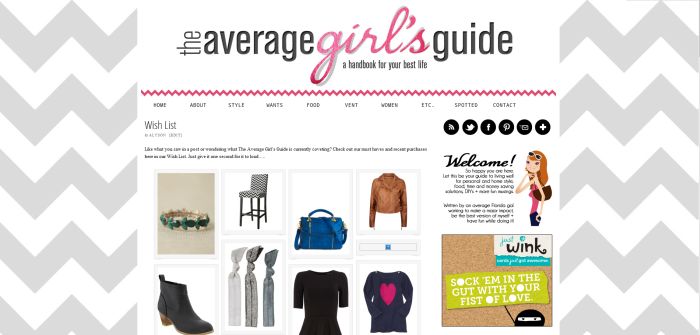 Please let me know if there's any questions you have, any content you'd like to see, or any topic you'd like me to address, from relationship or family advice from another average girl to how to style a piece that hasn't moved from your closet in months. I feel so fortunate to have this platform to reach other women so I'm always on the hunt to make it as useful as possible.
AND, a bit off topic, but I have to share: You know how Target invited me to become part of its Inner Circle? (still in shock!). Well, holy kazam, I lost it earlier this week when they invited me to join them for the launch party of the Neiman Marcus collab, which debuts on Dec. 1. Oh, the party is in NYC. I am at a loss for words. I started this blog because I love to write and share, and now this. I can't believe it.  So, on Nov. 28 be sure to follow on Instagram (@avggirlsguide) or Twitter for an inside look at the action.  I'll be there for a split second (ok, 23ish hours), but I'll capture as much as I can!
Wishing you a wonderful Thursday… and it's almost Friday!

{ 12 comments }