With fall/winter really in full swing — hello, Thanksgiving is in less than two weeks! — it's time to start breaking out parts of the wardrobe that have been buried in the back. For our latest post with Target, they suggested I take any item I haven't worn in at least six months and style it in three updated ways. Since most women only wear 20% of their closet — leaving a staggering 80% largely untouched — I loved this idea! I reached to the back of my closet and grabbed this blazer that I wore a million times last fall, stopped wearing around April due to the leather detailing and somehow haven't gravitated to this season. This assignment has been the perfect jump start!
I love this project because I'm a huge proponent of finding ways to test myself to wear pieces I haven't worn in a while; it's actually a helpful purging tool because you either discover you absolutely love something… or it's ill-fitting, has a stain, rides up while wearing, etc. Test it out for a week, and see how you can mix together the old and new.
Now for this abandoned blazer.
First up, I couldn't resist this under $20 skirt when I spied it the other day. The print, the comfy fabric, it just works. When the weather cools, I can't wait to wear it with a cozy cable-knit, or style it casually with sneakers.
Can we talk about these heels for a minute? I have an all black pair I've worn to death so I've been eying these for months at Target. I knew they'd look good with this skirt so I finally pulled the trigger; great heel height, the ankle strap, the cobalt blue, and comfy to boot. Expect to see these a lot.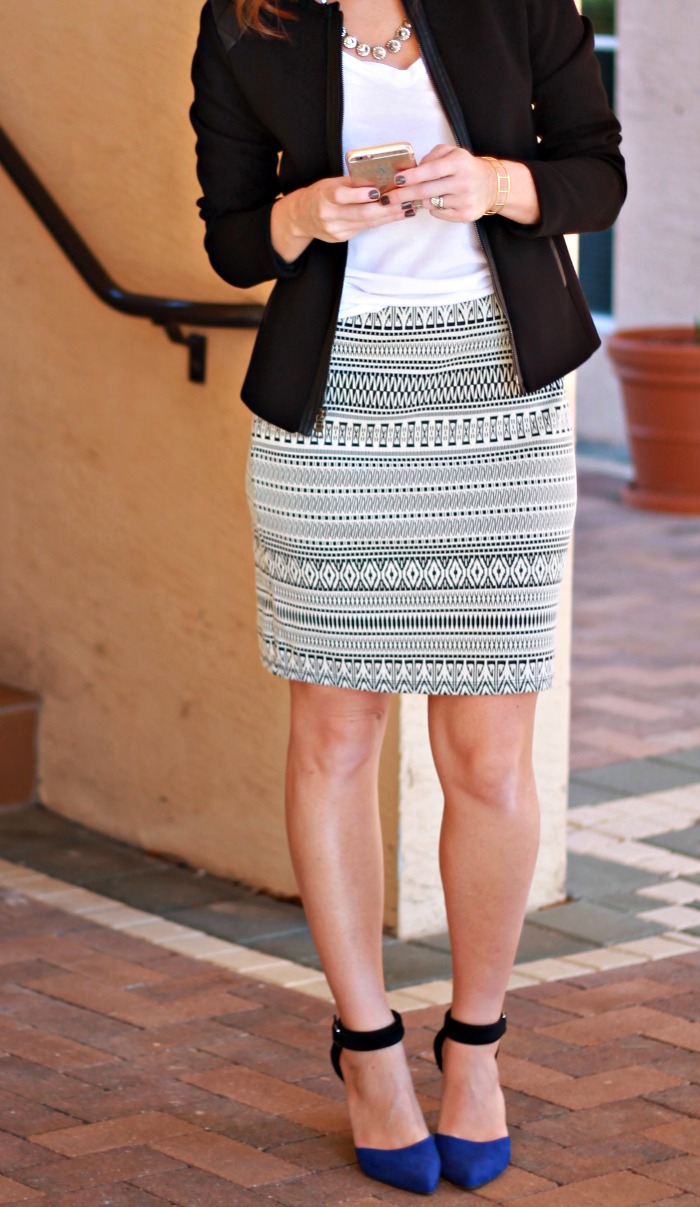 skirt // heels // necklace // clear iPhone 6 case //
Next, I've been going to my blazers more and more when looking to add a layer to a jeans and blouse evening look. While my natural inclination is to grab a cardigan, a blazer with its more defined angles has a way of creating a more polished look.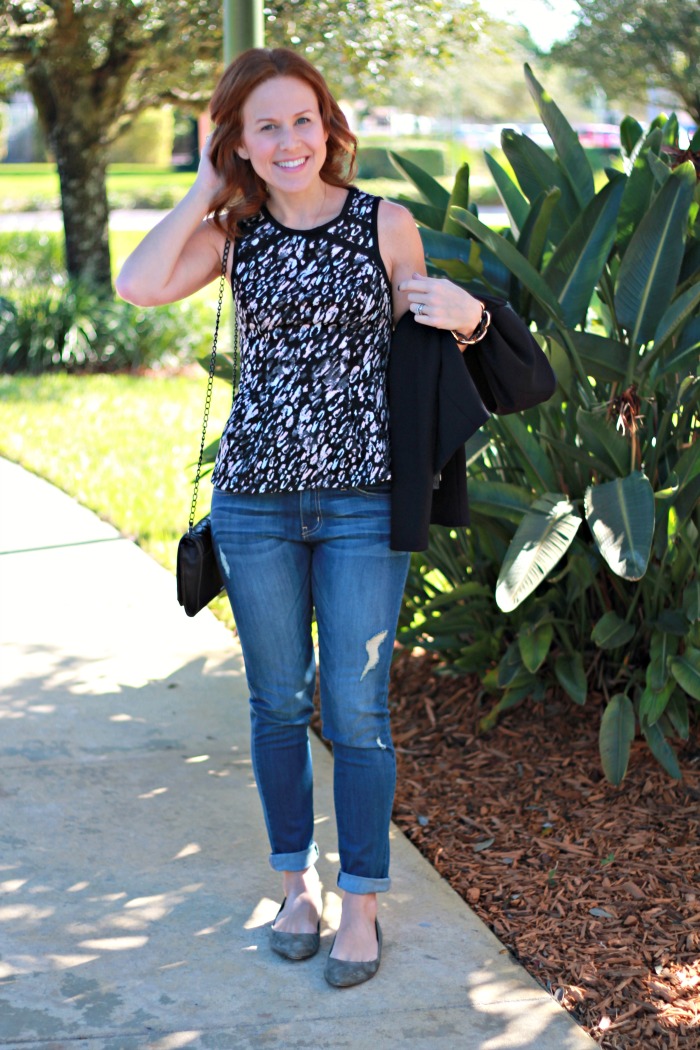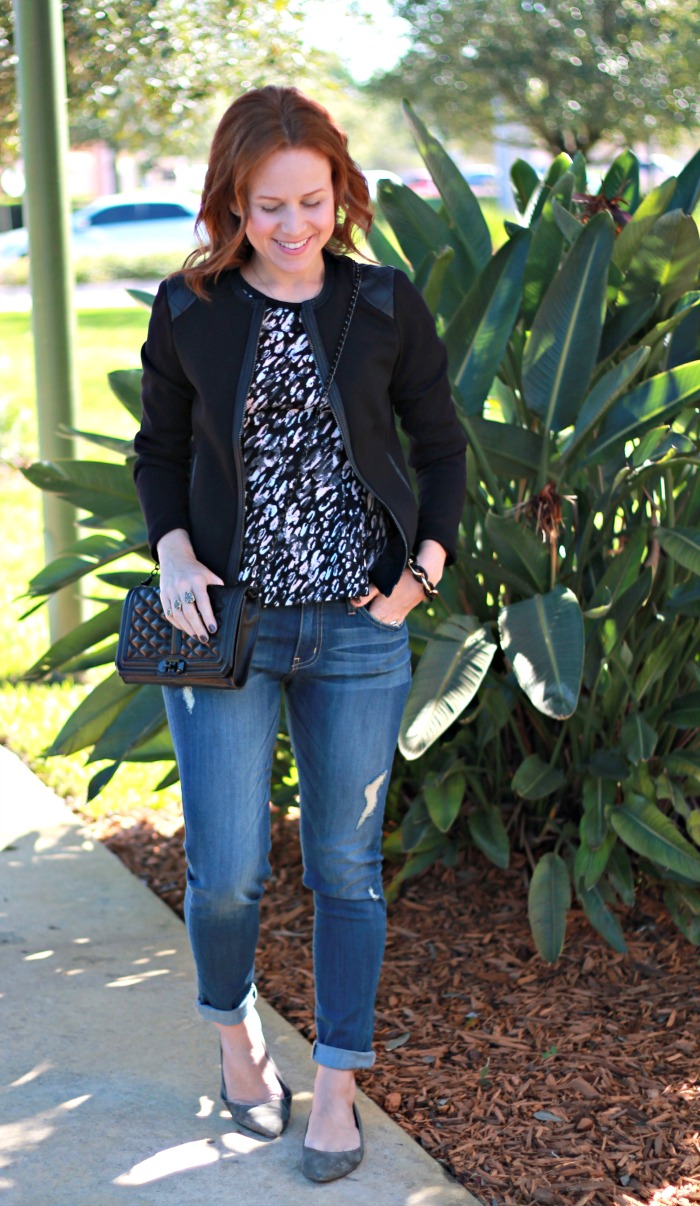 peplum blouse (in navy) // denim (from local boutique) // flats (similar: this or this) // purse // ring (in rose) // bracelet //
Lastly, this asymmetrical skirt is a new closet favorite (last worn here), and this time I had to pair it with this pop of color. This fuchsia hue is a perennial favorite; it works in every season, and particularly in the winter, adds a vibrancy to otherwise dark looks.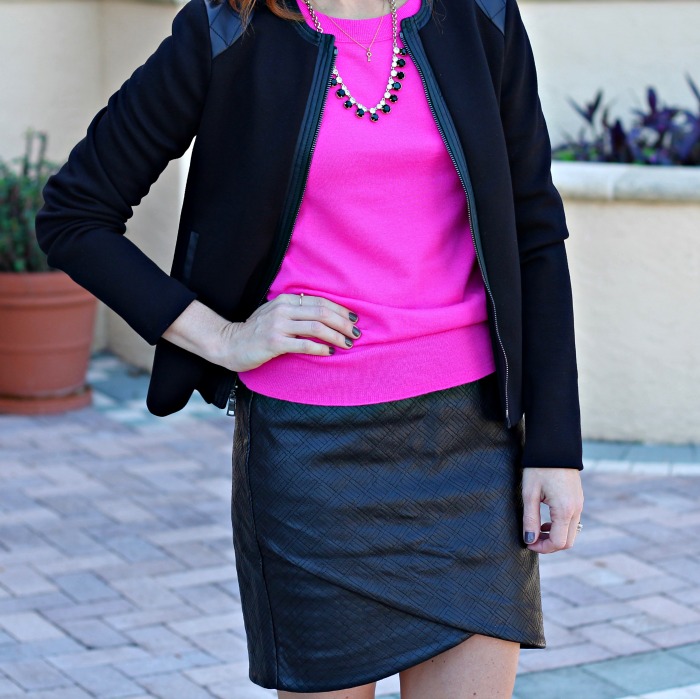 sweater (50% off; comes in 10 colors) // skirt // flats // necklace (similar)
 
Disclosure: Compensation was provided by Target via Mode Media. The opinions expressed herein are those of the author and are not indicative of the opinions or positions of Target.