I'm 34-years old. I'm not at all where I expected to be. Being candid, I was never one of those girls with a clear roadmap that by 25 I'd be married, or that I want two kids by 35. Or that, I wanted to own a business or be a successful who the heck nows what. Hell, until I failed financial accounting junior year of college and switched my major to public relations, I never saw myself in this field at all. That's the funny thing about life. For all the planning, or even lack thereof, it's sometimes impossible to know what the future holds.
I often characterize my life in two ways: before Sarah (our first child) in Nov. 2009, and before "I got sick" (March 2010), as both were such turning points in my life, in our life as a couple and as our family. Every single thing changed. Simple things like spontaneous date nights or pedicures to more complex things after getting sick like walking up the stairs, holding my daughter or even showering standing up. It took months of physical therapy to get me to a place where I only felt the discomfort without the typical person seeing my physical weaknesses. Still, four years later, my left leg is weaker. I feel it most when I get out of bed, when for a minute, they feel a little "stuck" (feels like I'm walking like the Tin Man). I keep going and soon the stiffness dissipates.
I share this because Nair asked me to share where my legs have taken me and what I do to reveal my best self. Think this is awesome — as is its new Moroccan Argan Oil Sprays Away™ No Touch Spray for hot summer legs - I must confess (more on that later) — because until you don't have the ability to use your legs, it's sometimes hard to get how incredible they are. My legs walked me into the interview that landed me into my first job, into the party where I met my future husband, to climb the tallest peaks in Israel and Italy, to carry our daughter during pregnancy, to run my first 5k (and hopefully not my last!). They've taken me miraculous places and given me a lifetime of memories.
While I don't recall many moments during my times in the hospital and in-patient physical therapy, I vividly remember one evening, sitting up on a bed, with the walker in front of me. I walked myself to the mirror and had a moment. That I had to not let the bumps and lumps and not being toned enough get the best of me. These legs are pretty freaking awesome. It's easy to say that when you're in that moment, but you know when you have a profound moment and then time passes, and real world sinks back in? Mental issues sometimes get the best of us, the best of me.
I've changed my mental framework a lot the past year or two, really working on my job and the people I surround myself with, with making our family complete and a few other things. The last few months have been on me. What I'm eating, how I feel about myself. I'm significantly more focused on eating whole foods, on foods that fuel me. Don't get me wrong, I still love a bagel and desserts like the next girl but I've reminded myself of moderation. I've been getting my tush to the gym way more often, and am about to join Orange Theory. The gym just makes me feel really good. Shockingly good. It gets rid of some tension, scores me time alone (perhaps while watching E! or HTGV), has been excellent for my digestion (TMI, I know!), and is generally happier all around.
I've always had "soft" legs; they've never never been really toned but I'm finally starting to see it. Little changes in my leg muscles that I love. No shame here, I've been working hard for those muscles! We've been heading to the pool more often lately and I don't find myself praying my daughter doesn't want me to get in… I'm there to have fun. I feel better taking the outfit photos for the blog — it's a little rough putting yourself out there each week when you haven't always felt your best, whether that means you're feeling bigger, or that your feet and legs are tingling more than usual, and you're just wiped out from all of it.
Four years is a long time and I recognize each day how fortunate I am where my legs have taken me, and for where we have still yet to travel. Totally believe there's an exciting road ahead.
To circle back, I've learned — particularly now with two little babes — that there are a few things that make my life easier and as Nair is suggesting we do this summer, Real Your Best Self. These style and beauty essentials have been go-to's, and subsequently make me feel my best, and present that to the world.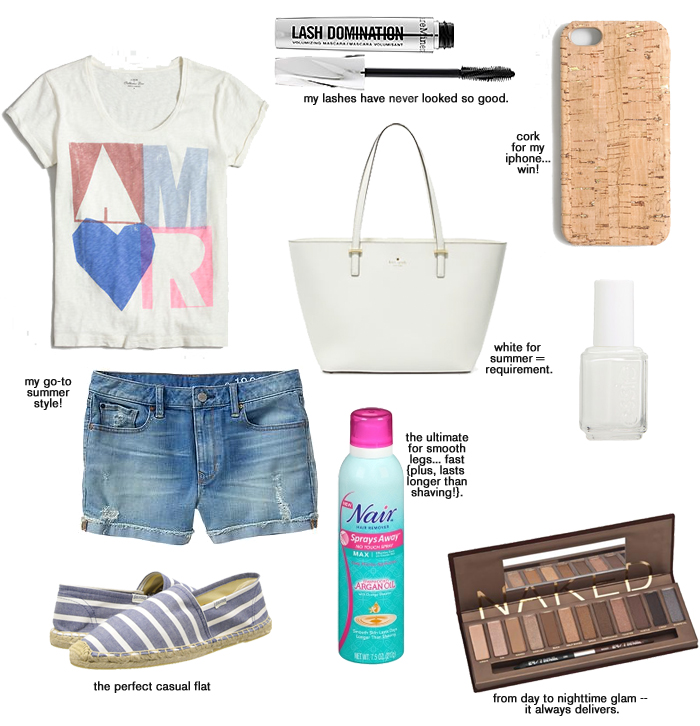 perfect shorts (or pale pink cut-offs) // espadrilles // tee // tote // nair morrocan no spray // white polish // mascara // naked eye palette // iPhone case

Nair Like Never Before.
Compensation was provided by the makers of NAIR™ via Glam Media. The opinions expressed herein are those of the author and are not indicative of the opinions or positions of NAIR™