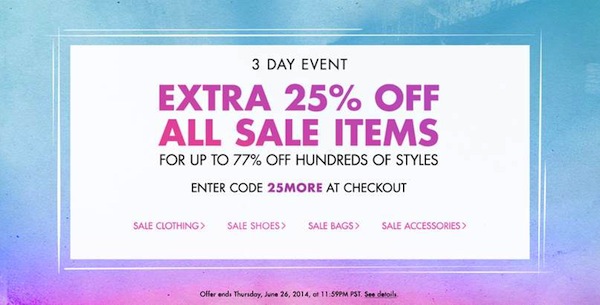 It's end of season sales times, guys. So you probably kind of love/hate me by now if you've been following around on social media. I've admittedly taken advantage of a few sales — namely when it comes to shoes! — and can't help but share this Shopbop sale where you get an extra 25% off sale with code 25MORE (no designer exclusions!). A few of my favorite picks:
This pink Joie soft python print dress that fully has a home sitting in my shopping cart. So cute with nude or metallic heels.
These cozy wide leg pants look so cozy to transition from errands to dinner. Need.
How amazing is this silky tunic number?
Don't steal this pullover before I get my hands on it!
If I neeeeeeded a new tote, this chic cobalt bag would be mine. How great are the side details that also make this expandable?
If you are a size medium or large, do not miss this black Parker maxi… chic, great details and you can wear to a wedding or to dinner topped with a denim jacket or white blazer.
Denim: these, these and these are such good finds!
Been eying these metallic heels for a solid two months. Perfect summer shoe.
Quilted and studded purse in pale pink? Check, check, and che-eck!
PS: if we're talking dream world, these surely would be on my feet right now. After I'm a size 9, I see a size 9. It's a sign. Sigh.