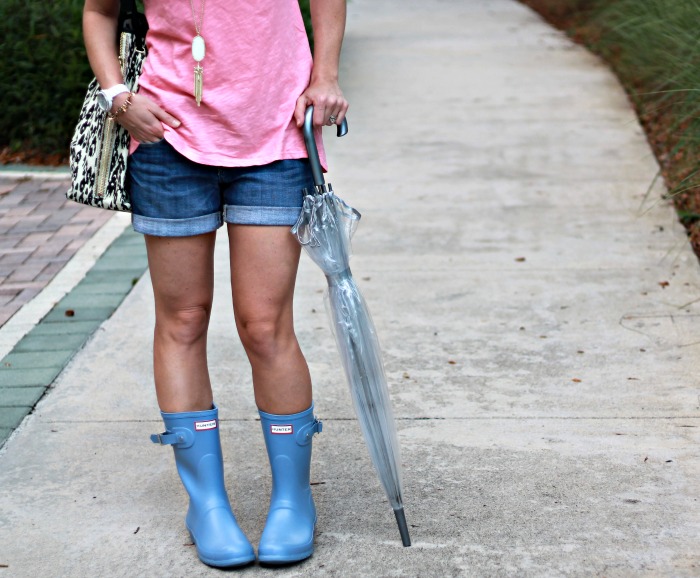 It's safe to say that summer in Florida includes a daily dose of rain. Sometimes a drizzle and sometimes all out torrential where all you want to do is cuddle under the covers and not be at work, or desperately need to run errands. After searching for rain boots for ages, I splurged on these baby blues after finding my size on major sale. Well, I first emailed two bff's — one in Seattle and one in NYC — for validation. You do that too sometimes, right?
The boots fit well — much better than knee-high versions in nearly every brand that would always hit my knees when walking. Plus, I carry these flip flops with me pretty much everywhere, even for lunch breaks or after work when I need to crank out a few errands fast.  Swap them out, and this is generally my weekend look: a special tee, shorts, a few jewels, and a great bag — this one from olivia + joy, with a fun print and lots of space.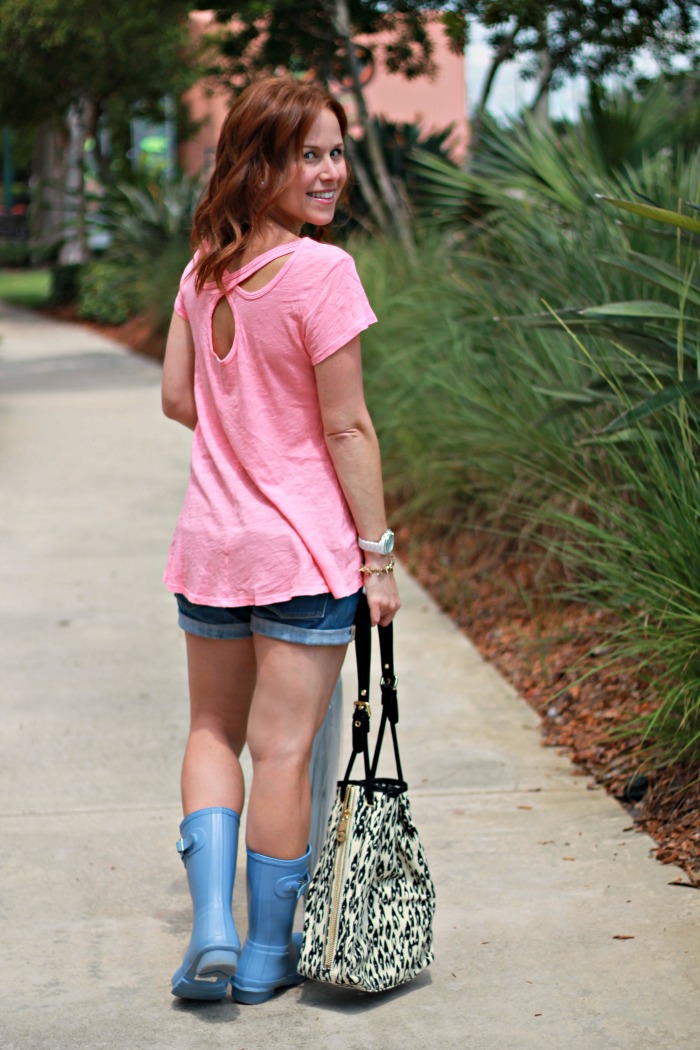 Must confess that this is day four since washing my hair. Have you tried the style winder I mentioned a few months ago? It's made a monumental difference in my hair… so much so, that I don't love wearing my hair straight anymore… and straight hair day four? Let's just say it's not pretty. This takes me about 10 minutes in the morning. If you're trying it, avoid adding too much product, and start to use dry shampoo at the roots when you need it. Typically day one is straight hair — my hair won't hold this without a little oil — and then day two or three until I wash it next goes this way lately.
tee: anthropologie // shorts: j. crew factory // rain boots (sold out; more colors) // bag: ℅ olivia & joy // umbrella: target // bracelet: nordstrom (comes in three metallics) // necklace: kendra scott (comes in a dozen colors)