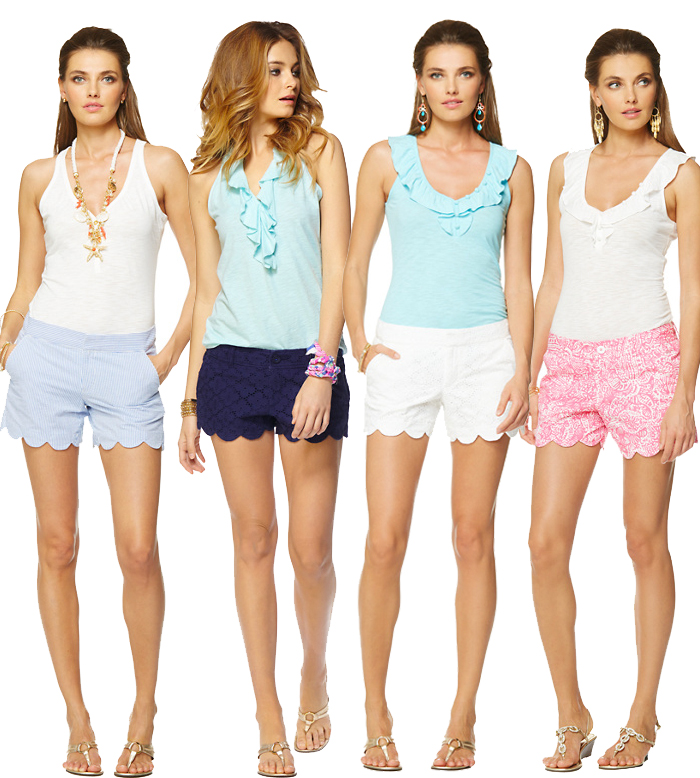 seersucker short // eyelet short (3 inches) //eyelet short (5 inches) // // print short
Based on yesterday's Instagram feed, you guys are clearly on board with my all-out obsession with anything scalloped. Proof: these Lilly Pulitzer shorts. My gorgeous (and leggy!) friend wore the 3″ version for a girls night out last week and I had to have them. Good thing my excessive "hinting" worked: the husband got me these and the navy version of the ruffled tank above right for Mother's Day (score!).
Sizing tip: if you're between sizes, size down, with the exception of the seersucker print; it's a thinner material, i.e. less forgiving… though oh-so-cute.
Have to admit I've never been a "Lilly" girl despite living so close to Palm Beach, home to all things Lilly Pulitzer. While some of the more classic pieces are not necessarily my style, I'm wow'ed by more recent collections… swear nearly every compliment this week to a friend has been a Lilly item! Must share that the price reflects the quality (the cotton is particularly awesome) - and it rarely goes on sale — but I appreciate that the price is what it is. Don't you hate when you buy something for 30% off and the next week it's 40% off? Hate. That.
Back to the good stuff; here are more fun, colorful Lilly for summer that I particularly love…