Perfect Brows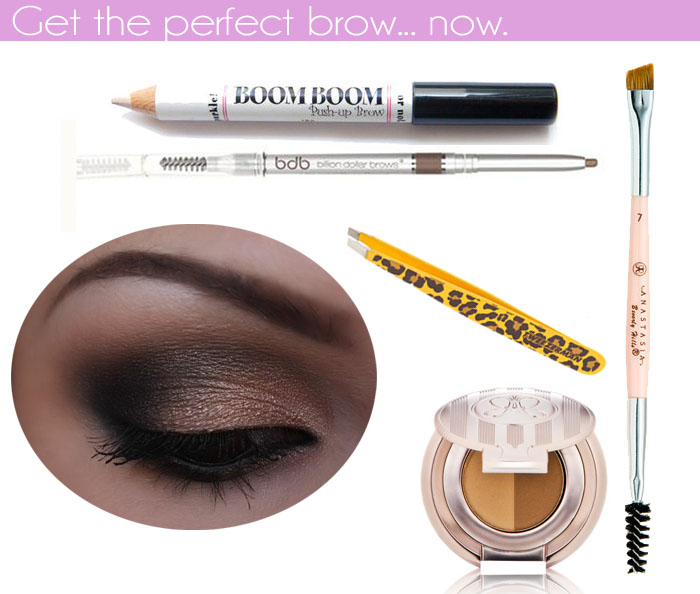 A strong brow is everything. Everything. It completely defines your face. Tweezing or keeping up with those waxes on the regular are more important than you realize, regardless of if you have a bushy brow or one that's barely there. After you remove the stray hairs, have no fear. Whether it's over-tweezed or you're just not naturally blessed (this girl is raising her hand!), here's a few products faves to enhance your natural assets.
Anastasia mini duo brush + brow powder duo (my shade is medium ash/medium brown): A recent find after using a MAC eyeshadow for ages, the real magic here is this double-side brush. Brush color in, gently brush your brows. Repeat for perfection. Foolproof.
Billion dollar brows universal brow pencil: I received this to test and admittedly didn't use it at first. How can one color work well on everyone? Magic, that's how. Even though my brows are so light this ads perfect color — and excellent definition — to my brows.
Boom boom push up brow: Amazing tool to lighten up your eye. It's like you scored a few extra hours of sleep! Add a little bit in the corners of your eye to lighten up the whole darn thing (even some darker under eye circles!). Tip: use before you define your brows so you don't accidentally wipe away any handy work (err, brows) in the process. Thanks to NYFW fun for gifting this to me; new favorite.
Tweezerman tweezers: An Allure best beauty buy, this tweezer is consistently top rated for good reason. Yes, it's not $2 at your drugstore, but it's one of the most important tools you'll have. Ok, and a phillips screwdriver. Yeah, those just always come in handy.