Bed, Bath and Beyond is seriously like the Target of the home world.
I go in there for I don't know, coffee K-cups, and walk out a gazillion dollars later.
It's crazy! I didn't realize how much I "needed" for my home until I walk past all their fun gadgets, especially for the kitchen. Yesterday's purchases are almost a blur, but I do remember one awesome find:
This berry collapsible colander!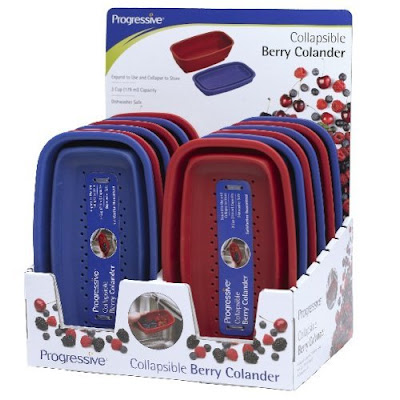 How handy is this? You can get it in either red or blue, as shown above.
I'm constantly washing blueberries and strawberries for my girl or for us…. hate busting out even the bigger collapsible colander or putting them in my hands for a faux wash; this is just perfect.
At least to me it is!
If you want to find it online
Amazon
has it for less than $3 (though the shipping is a little high) so I'd suggest buying a few so you can rotate or give to some very happy family members or friends.
Be careful on Amazon… it kind of sucks you in like Target and BBB (in that glorious way of course)!
I've been known to get lost searching for home goods, books, music, clothes, even furniture
PS: definitely use this for rinsing other small items like veggies for a salad. Keep your big colander hiding where it belongs (isn't it so annoying if you put it in the dishwasher? Takes up the whole thing!)!
Enjoy your freshly cleaned berries.