This past year it hit me. It's been nearly 15 years since I graduated college. I own a company. I have two kids. I have some wrinkles. I'm in my mid-30s.
I'm happy with all in my life right now but where did this come from? While I'm ok with a few wrinkles I'm realizing that I need to start investing more time into taking care of my skin. Olay, which I'm personally a big fan of, challenged me to share with you my plans for staying #ForeverYoung, and since this 34-year-old girl has been taking some pro-active measures this year, I'm excited for the opportunity to share. You'll notice that it's so much more than washing your face; it's about taking care of your entire body that will make your face glow.
1. Drink h2o: It matters! Water is so good for you on so many levels, from dietary to skin. Drink it and you'll see a difference. I carry one of these bottles with me all the time.
2. Laugh: Taking time to spend with those who really matter in your life are what it's all about. Rid yourself of any damaging friendships or bad situations and invest your time in the good people. Laughs will undoubtedly ensue!
3. Moisturize: I've been using Olay Regenerist Micro-Sculpting Cream for a few months so when they asked me if I wanted to test it again and share with you, it was an immediate yes. Using it twice daily, I see a real reduction in the appearance of my wrinkles, particularly my frown lines between my brows where I'm hyper-sensitive, and also on my forehead. It's this great thick, creamy consistency that really gets into your skin. I love the way it feels.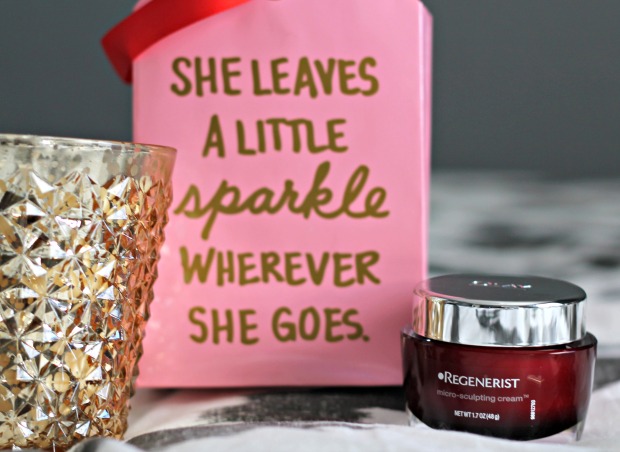 4. Start Moving: While it might take a little more time as you get older, you can see major results from some extra movement! While the gym has sadly taken a back-seat the past few weeks when I go regularly I feel healthier, more youthful, and I can see definition in my arms and legs that I didn't have even in my 20s! I don't have a ton of time, so I multi-task: I get in about 30 minutes on the treadmill (while watching a little HGTV) and then about 10 minutes of weights. In 2015, yoga (along with learning how to do eye-make up, as mentioned earlier this week) is one of my top priorities. I'm determined to make it happen.
5. Watch what you eat: I love a salad. Ok, I also love Sour Patch Kids and anything with peanut butter and chocolate, however eating healthy has huge benefits in a myriad of ways. I cut out a lot of carbs, and I'm eating — and drinking! — so many more green foods. I love making my zucchini noodles (I use this!), wilting down spinach with chicken, and some cheese, and making monster size salads with whatever I can grab. I switched from some lower fat peanut butter to chunky almond butter, which has none of those chemicals but also keeps me full longer.
6. Invest in your skin: I've been lucky that people have always thought I was younger than I am. To keep that up, I'm becoming more diligent about washing my face (I use this that has a gentle exfoliation built in, or at least facial cleansing wipes if I'm about to pass out), and recently treated myself to a facial. Letting your skin breathe is so important.

Olay is a worldwide leader in skin care and has been trusted by women for over 60 years, maintaining its founding philosophy: to maintain a deep understanding of women's changing needs and to combine products that fit their needs with the latest advances in skin care technology. Regenerist was created along those lines to address women's anti-aging needs, and millions of women have tried it and loved it, making Regenerist the #1 anti-aging moisturizer.*Based on Nielsen data week ending 2/1/14.
Disclosure: Compensation was provided by P&G via Mode Media. The opinions expressed herein are those of the author and are not indicative of the opinions or positions of P&G.