Ogle or Own: J. Crew Bubble Necklace
If I had it my way, I'd own everything in J. Crew. Stripes, bolds, patterns, classic, modern pieces that I can stare at all day. Since this average girl's budget is pretty — average! — I didn't have the $150 to shell out on this gorgeous 'bubble' necklace that is a total outfit transformer. Kimberly then convinced me that ebay (which confession: I never use) was the place to score the necklace for under $20 so I figured, let's see!  It says it's authentic (I'm not entirely sure how that's possible) and I now have two via this route and couldn't be happier. They're absolutely gorgeous and result in a barrage of compliments. Want to see it in action? My pink one was last seen here and just showed you my new turquoise one on Monday.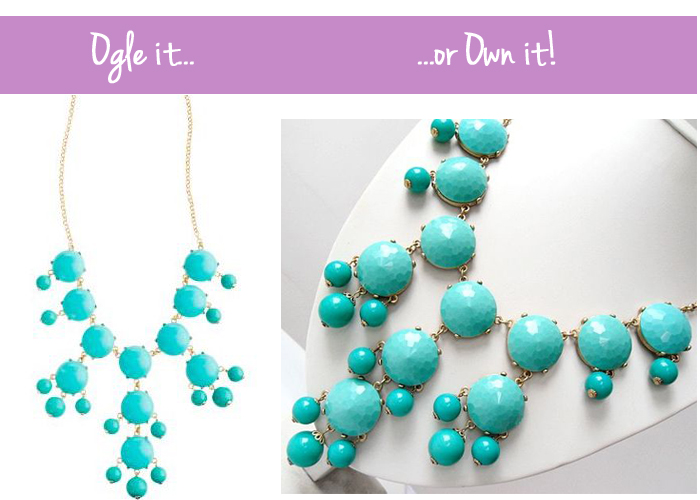 Since you're using eBay, it's easiest to purchase with a Buy it Now option featuring free shipping. I spent less than $20 both times with about a 20 day wait time for travel (they're from China, natch).  Pssst: when someone asks you about it — which they will — just say it's J. Crew. Only close friends have to know the real truth where it traveled from!
Ogle: J. Crew ($150)  | Own: ebay (under $20, multiple sellers)