5 Must Haves for Summer from a Fashion Momma
|
PS: This is a repost from last week. Blogger (where my blog is hosted) lost thousands and thousands of blogs… unfortunately, this was one of them.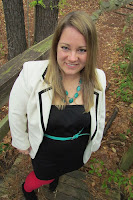 Meet Kimberly.
This gal is the fab one behind
Fashion Momma
, an irresistable fashion blogger for the real woman (woohoo!) that shows Kimberly's quest to stay accountable to herself post baby. It's a place to see her latest wears and to get plenty of outfit inspiration for yourself.
In addition to being a mom, she a 20-something who works full-time and is one of the most adorable, good natured gals out there. I'm thrilled to have her guest blogging today, sharing the five items she already knows she can't live without this summer.
In her words, here are Kimberly Anne's 5 must haves for summer!
Bare Minerals Warmth all over face color
This stuff goes on so beautifully (with a light hand!) and looks great on several skin tones. Of course, you can adjust how much bronze you want, but I love to use a light dusting on my temples, hollows of my cheeks, across the top of my forehead, down the bridge of my nose, and a bit on my chin. With fair skin, I stay out of the sun most of the time and/or use the highest SPF because I've had some skin cancer scares. I love the glow of sunkissed skin, but this is the safe way to achieve it!
Victoria's Secret PINK Fresh & Clean All-Over Body Mist
This smells like my own personal Heaven. I'm not even kidding you! When I spray this on myself after a shower (and use the lotion!), I smell fresh and clean all day. It gives a very light "just out of the shower" scent. No strong florals, no musk to be found- just like the scent states, "Fresh & Clean." Husband likes it, too. So that's always a plus!
Cotton Sundresses!
I really can't lose with a cotton sundress. If I can wear a supportive bra and the rest of my body can breath, I'm a happy girl! With chasing kids as a nanny and spending lots of time outdoors and running errands, comfort is key. Cotton is lightweight enough to get me through our 100 degree, 100% humidity summer months, and if you smack some flowers on the fabric, I'm a sucker. Purchase, purchase, purchase!
TAGG tip: check out the affordable dresses from Target, like this one pictured above.
Comfortable, but STYLISH footwear
As I said, I'm all over the place. I've been known to sacrifice comfort for style, but not anymore! My new job won't allow for stilettos, too many straps, or really much of any fuss at all. I also refuse to wear plastic flip-flops every day (don't be mad if you catch me doing it, sometimes, though!). It's important to me that I'm comfortable, but still show off my sense of style. Old Navy has been killing it with affordable, comfy summer shoes this year!
Clinique's Dramatically Different Moisturizing Gel
With super oily skin, I tend to just skip the moisturizer in the summer time. But as I age (ahem, 27 is almost 30…), I've noticed that oily or not, those little crow's feet and laugh lines want to creep up on me, anyway. I discovered this moisturizer a year or two ago and haven't turned back. It's creamy enough to work all year-round with my oily skin, but it's water based and its "gel" composition is lightweight and mattifying, even on the hottest days. Don't skip the moisturizer! Just search until you find the right one for your skin!