12 stylish blazers, vests + jackets for fall under $100
Regardless of the current temperature where you live, adding a blazer or vest year-round is a really easy way to make your outfit more interesting, more stylish and more put together. Consider it instead of a fleece, a sweatshirt-type jacket, etc. Adding this type of structure defines your shape and adds excellent visual interest. For example, check out the outfits in the image below; they're mostly just basics: denim, pants and a casual blouse, with the outfit totally defined by what's being layered on (hint: the easiest way to recycle the rest of your look; just change the top — or the necklace!).
Since one of my favorite online retailers, Piperlime, is having a slew of its fall style on sale (I only want 2/3 of this! want nearly all the blouses), couldn't resist sharing with you these 12 stylish blazers, vests and jackets perfect for fall…best of all, everything here is under $100, and that's before the 30% off (through Oct. 18).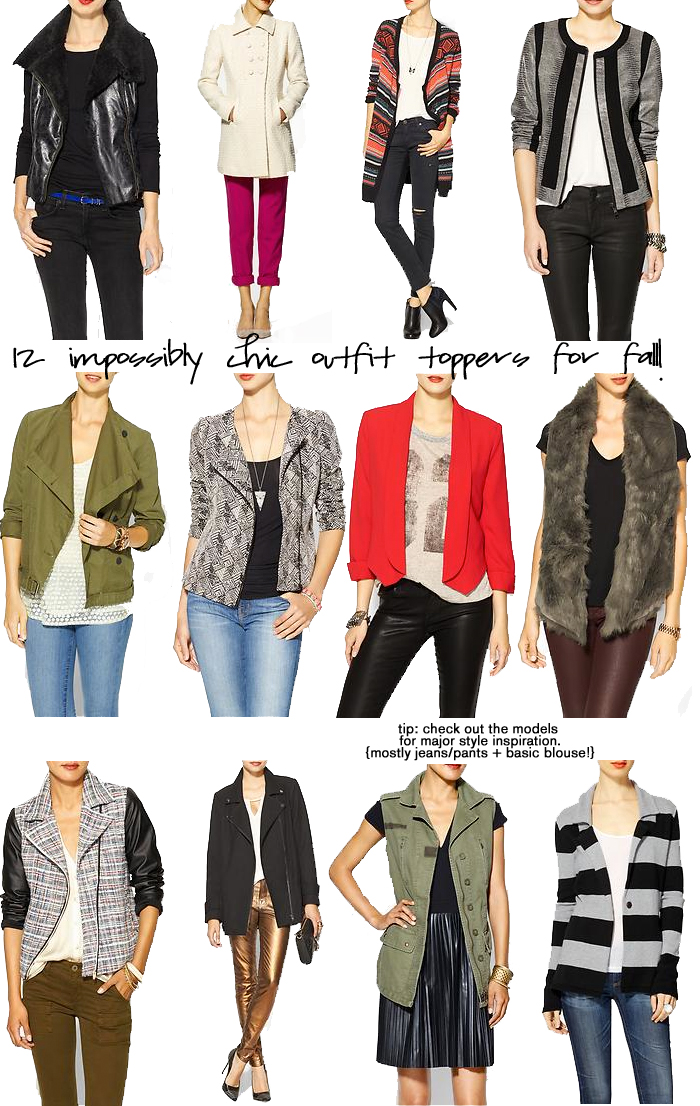 black aviator vest // double breasted cream coat //fair isle blanket sweater //snake print jacket
military jacket // jacquard moto jacket  // red tuxedo jacket // shearling vest 
moto tweed jacket // long black moto jacket // army green vest // rugby stripe cardigan (comes in 3 colors)