I have a love/hate relationship with catalogues. On one hand: it's so much paper wasted for stores I'll just shop online for or conversely, could care less about (and wondering how the heck they found me!). On the other hand: I get to drool over my favorite stores latest looks (talking to you Nordstrom, J. Crew, Anthro and Bloomies), and discover fabulous new brands, too.
This week's find? Uncommon Goods. Tons of unique gifts, creative finds, lots of items made from recycled items, etc.  Also, tons of awesome items for entertaining or for that gracious hostess in your life. Here's a few I'm spying (good thing since I'm planning my daughter's second birthday and Thanksgiving five days apart).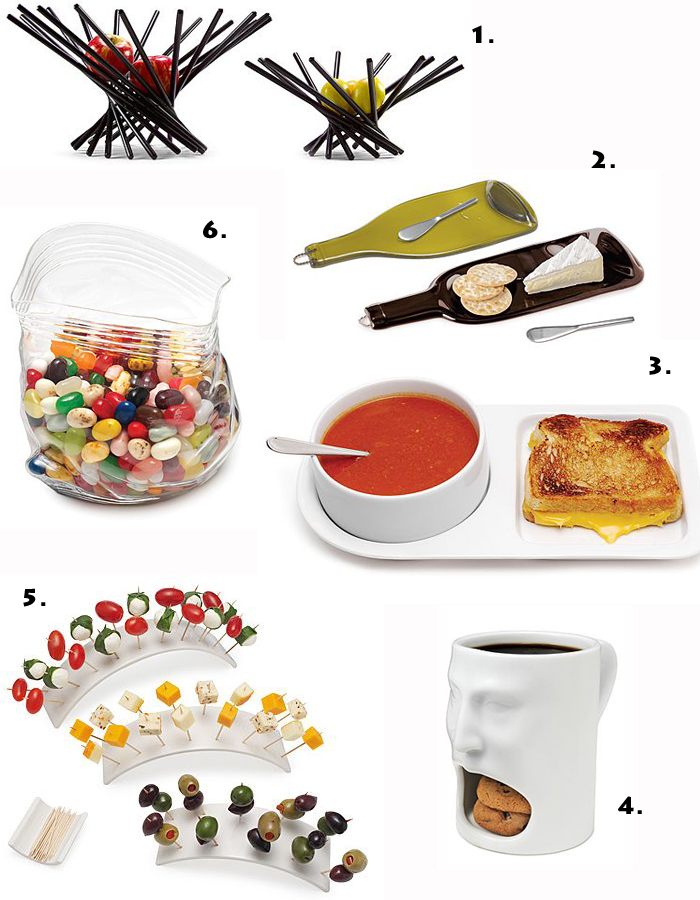 1. satellite bowl ($35-$45) /2. recycled wine bottle platters ($20) /3soup and sandwich ceramic duo set ($30) - also PERFECT for ice cream and pie, cereal and a fruit, options are endless /face mug ($18) / rainbow hors d'oeuvres set ($44) / unzippered glass bag ($20)
So, fun, right? TAGG always recommends a fun (and functional!) conversation piece!

{ 29 comments }