From Alyson: It's been a few weeks since our last recipe post, and this is such a fun one to welcome spring (hopefully there's no snow where you live!). Libby is back sharing this super creative and delicious recipe — I've loved most of these ingredients mixed in a salad so genius to do them up taco style! — and we're also linking up with a few more bloggers who are sharing delicious recipes using spring's most in-season fruits and veggies. Keep reading for all the yum fun.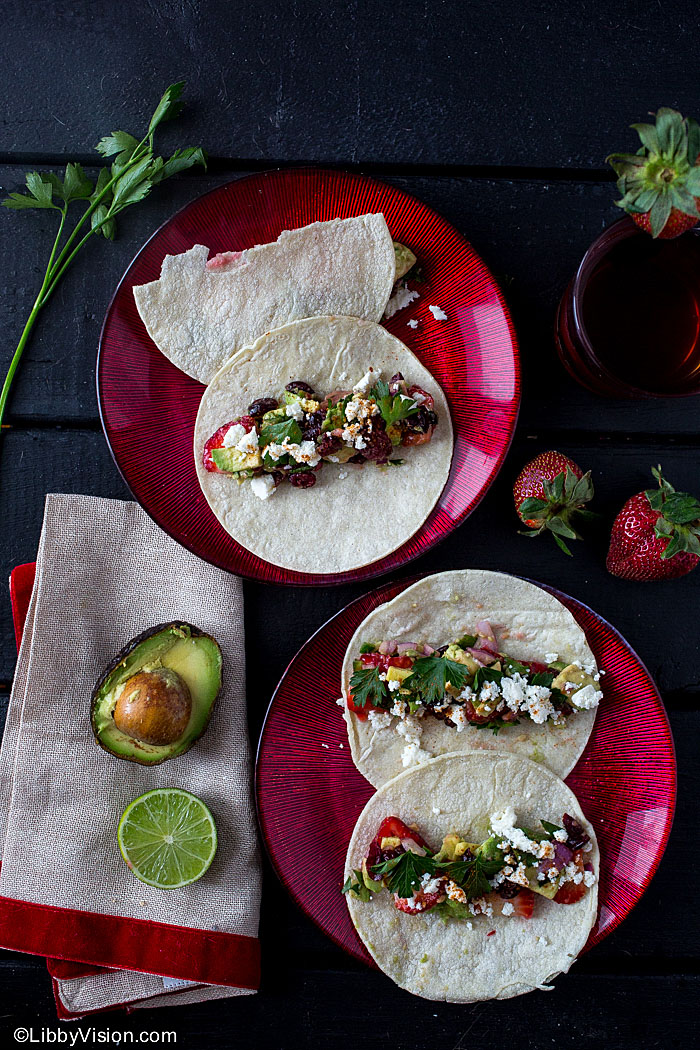 Libby: Every strawberry season, I search out a new, exciting way to use strawberries. This year, I discovered two new recipes. The first was a super complicated, super fancy strawberry floats with Prosecco sabayon. While delicious, they took me hours to complete.
The second is a meatless, zippy and fun mix of flavors in a taco format. Inspired by a recipe for strawberry tostadas on the California strawberry council web page, I adapted the recipe to create a fun taco with a lot of flavors and textures.
Before we get started, check out these delicious, fresh spring recipes from other great bloggers:
Orchiette with Kale Walnut Pesto & Lemon Broiled Asparagus // Clara Persis
Pea, Pistachio, and Mint "Pesto // vmac & cheese
Springtime Lemon Petit Fours // House of Ernest
Strawberry Paleo Ice Cream // lemon stripes
Now, to the strawberry avocado tacos…
Serves 4, 2 small tacos each
Ingredients
½ pound strawberries, organic if possible, stems removed and sliced
1 ½ avocados diced
1 jalapeno, seeds removed and cut into very small pieces
½ cup Craisins
¼ cup red onion, diced fine
Salt, to taste
½ cup cilantro, chopped plus cilantro sprigs for garnish
2 Tablespoons lime juice
½ cup fresh queso fresco, crumbled
Chili Powder
8 corn or flour tortillas
A few important notes: One, I like things SPICY! This taco, with a whole jalapeño and then sprinkled with chili powder reflects that. And two, it's a fairly light summer dish. I'm not sure it would be a super filling dinner all on it's own – as there's no meat, beans or other major protein source (you can add; shrimp could be good!). But I see this stellar as part of a brunch, with a side salad or as part of a nice dinner. Consider pairing it with a nice cool rose wine or ice tea or margarita or even a cold sake to cut down on the spicy.
Directions
In large bowl, mix together strawberries, avocado, jalapeno, Craisins, red onion, salt and cilantro. Squeeze lime juice over and toss gently.
If desired, heat up tortillas either in microwave, in small sauté pan or in oven on 400 degrees for 8 minutes. Spoon ¼ cup serving into tortillas. Top with 1 Tablespoon queso (or more if you like). Sprinkle chili powder on top and garnish with cilantro sprigs.
recipe + photo: libbyvision.com