Ever have one of those nuts days that beyond preparing for a million things, you're not sure what outfit will work for all of the above? That was last Wednesday, when I had a blogger breakfast date, three work meetings all over the place, and then two birthday dinners. Yup, two. My mother in law's at 6 pm, and a good friend's at 7:30 pm. Luckily they were at restaurants across the street from each other! What do you wear to all of this? My solution: this dress. We scored a J. Crew Factory when the Palm Beach Outlets opened last month (yay!) and this dress was a must. It's the exact style I admired at J. Crew last year, and regretted never pulling the trigger. As soon as I saw it, on sale no less, I knew it would be mine. The biggest challenge was deciding color (love the poppy, too!). It's a fun dress that can be styled more business appropriate with a blazer and heels, or casual, with flats and a denim or camo jacket. Versatile dresses are worth their weight in gold! I might be going back for the more spring poppy color, too. It's that good.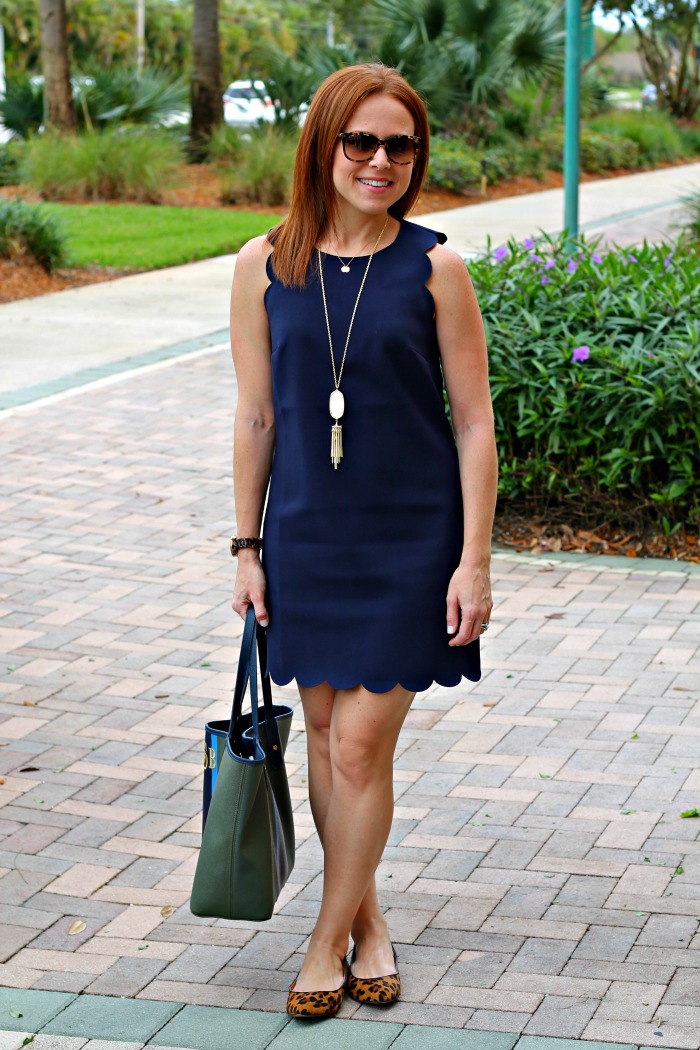 dress: j. crew factory // flats: madewell // bag: c. wonder (similar styles; obsessed with the cork!) //clutch: tory burch (has a strap) //  jacket: h&m (size up) // necklace: kendra scott (comes in more than a dozen colors!) // sunnies: kate spade 
Sharing lots of newer accessories here. I've been paying careful attention to pieces that would enhance my wardrobe and spending my Poshmark earnings wisely to secure them. This necklace and flats are among my favorite recent purchases. I wear them constantly, work and weekend. Same goes for this Tory Burch clutch/purse from last summer.