This might be crazy but as someone who loves finding pieces at a steal — be it designer for less, a major sale, or a total bargain find at Target, for example — I love checking out my outfit and giving a quick mental calculation about how much it cost. Often my shoes or handbag cost more than everything else combined! Love the feeling of seeing an entire look come together based on a number of good finds.
Based on chats with friends and many of you, it's clear we're all hitting up Target for style at a deal. Collections keep getting better each season (same goes for the home goods! More on that in a few days). Couldn't help but compile a few of my recent favorite steals that are awesome enhancements to any outfit. I recently purchased the lace blouse — which looks like finds for five times more — and I am pretty much stalking those sandals (pssst… just don't tell the hubs that the pajamas are already in my cart!).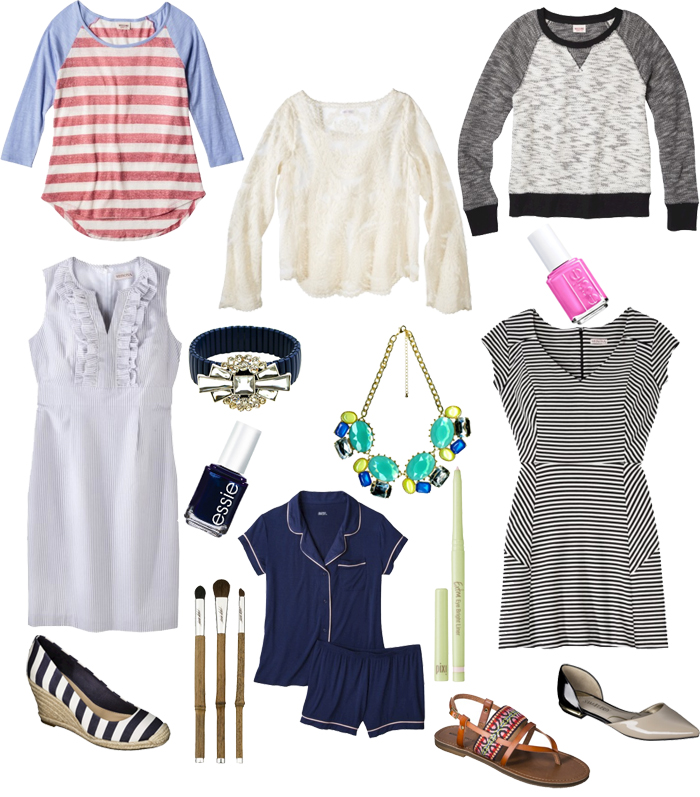 striped tee // lace crochet blouse //sweatshirt
seersucker dress // stretch bracelet //essie midnight cami // gemstone necklace //essie madison aven-hue // striped fit and flare
striped wedge //  sonia kashuk brush set // pajamas set // pixi eye bright liner // aztec print sandal //ballet flat // d'orsay flat

Find your style @targetstyle.
Disclosure: Compensation was provided by Target via Glam Media.
The opinions expressed herein are those of the author and are not indicative of the opinions or positions of Target.