It might be Thursday but we totally have Friday at 5 pm on the brain, and can't help but dream about the Watermelon Vodkatini we deliciously sampled at PGA National Spa in Palm Beach Gardens, Fla. last weekend. It's part of its lower cal spa refresher spa-tinis menu, with cocktails that pair with spa services. We mixed it up by trying the dreamsicle massage (the custom blended cream/oil combo was moisturizing without being oily… need it). I'll fill you in more next week about its beautiful spa — it's the perfect staycation! — but now we must get to the critical: the watermelon votkatini. I'm talking about this beauty: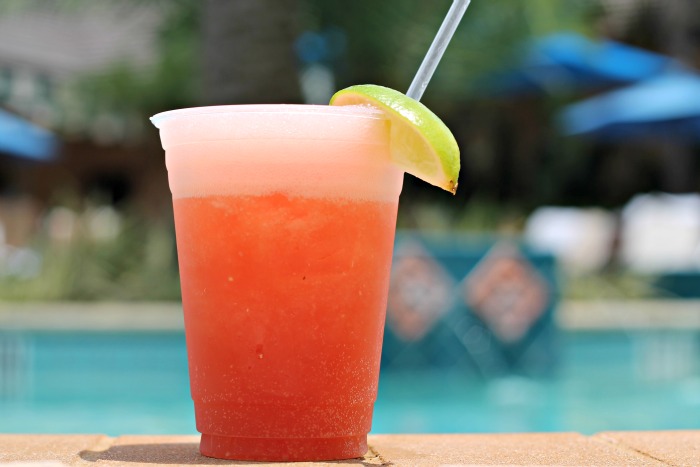 Thanks to The Spa at PGA National for generously sharing the recipe, which is not only delicious, it only has 90 calories and has its health benefits!
The antioxidants in watermelon help reduce the severity of asthma and may also reduce the risk of colon cancer, heart disease, rheumatoid arthritis, and prostate cancer. Watermelon is also very hydrating and helps to boost energy levels due to its high concentration of vitamin B.
Ingredients // 
¾ cups seedless watermelon cubed
½ oz Vodka
¼ oz Melon liqueur
Splash of lime juice
¼ cup ice cubes
2 tbsp Splenda
Directions // 
Dice ¾ cup of watermelon into small cubes. Puree the watermelon cubes in a blender and add vodka, melon liqueur, lime juice and ice and blend well. Pour into a martini glass and garnish with watermelon and lime slices.
Simply sipping this along with lunch and my arnold palmer (half lemonade, half tea) by the pool was pretty much heaven….