I'm the first to admit I'm not an expert at everything, and that holds true more than ever when it comes to wrapping presents (but I can stuff a gift bag and dazzle you with tissue paper like it's nobodies biz!) so I enlisted Niki of the fabulous + talented duo behind papery & cakery, a boutique, bakery and one of my blogs, to make all us girls look amazing when gifting this holiday season. I met Niki pre-babies and now that she's blogging too, my girl crush has totally intensified. She has impeccable taste, knows the latest finds, has a sister who can bake this (holy yum!) and is crazy creative like none other. For example, how cute is this DIY wrapping paper idea she whipped up for TAGG on a moment's notice? Obsessed. Thanks, Niki! Hope you'll come back to visit soon.
Keep reading to see how Niki made this look so good…
1. Wrap gift with kraft paper
2. Place double stick tape however you would like (I used a thinner piece and a thicker piece across)
3. Cover tape with jewels/rhinestones (I bought a giant bag at Michaels ages ago)
4. Tie with a colorful string!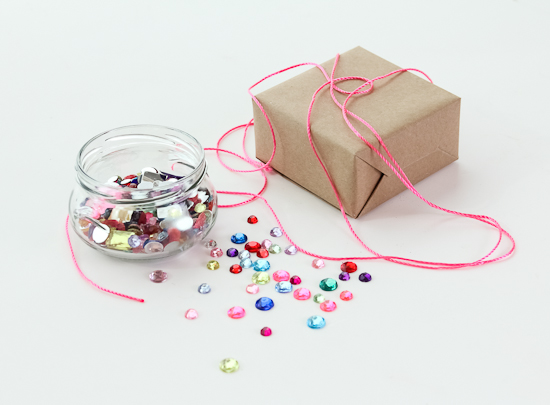 Thanks again, Niki! Awesome reminder why you're one of my favorite ones out there.