It's December, which means… holiday parties! On Saturday, we headed to two, one a more casual holiday housewarming and a second slightly corporate one at a beautiful country club followed by a holiday boat parade. Great night out!
Outfit: I didn't go the dress route because these weren't the right events (that's this coming weekend, ha!). I knew I wanted to wear tights and the faux leather jacket so the rest fell into place. Unfortunately, this outfit should be called what to wear when you've had an allergic reaction (for nearly a month!) that makes your chest and back look like a slight case of acne. LOL, awesome, right? I planned on wearing this pretty pale purple scoop neck tank, however since I needed more coverage so I instead donned this solid black top. And, I LOVE this skirt. While it might be a little short without the tights —TAGG tip: if you think it might be too short, it is! — it was perfect like this in front of clients and for a more casual party.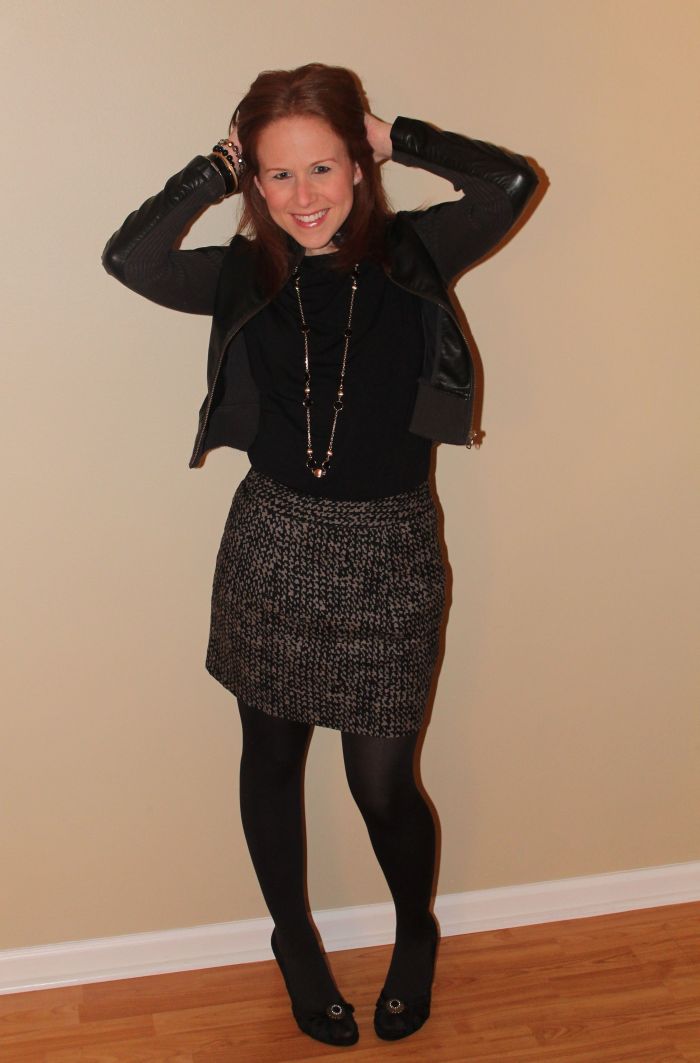 I'm loving these (finally) cooler nights in Florida… mid 60s. I laugh a little with my outfit posts because I'm putting on this light-weight cropped jacket while many of you already have snow, plus peacoats and big boots. Not in this neck of the woods! Only negative for everyone? How dark it gets early. I was soooo disappointed that I had to take these pics inside because of it was dark at 5:30 pm here on Saturday. Can I get a resounding booooooo?!
top: loehmanns / faux leather jacket: bitten by SJP (she had line under $20! similar / similar in red (just $32!) / skirt: gap (similar) / tights: c/o hanes hoisery / shoes: bcbg via loehmanns / necklace: bloomingdales (gift, similar) / bracelets: lord & taylor and h&m