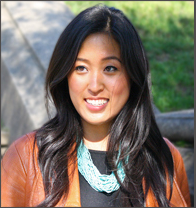 Meet Victoria! An Austin native, this gorgeous gal moved to LA for undergrad and then to San Francisco for culinary school, where she's been since 2006. I found her blog, vmac & cheese, this fall and was instantly smitten by her fantastic taste and frequent posts on food, design and more. She's someone I'm instantly drawn to as her passion for life shines so vividly through her images and words. When reading her about page, I realized we both have an infinity for navy blue, flea markets, vintage sparkle and j. crew (though who doesn't for the two later mentioned items?!). Oh, and food, duh. But we differ in that she can create dishes, I merely just like to eat them!
I'm honored that she's put together this absolutely fantastic post about five must haves to be out the door in 15 minutes. Many of these products are new to me, which is even more exciting. In her words, here are Victoria's must haves…
Hey (not-so) Average Girls! I'm Victoria from vmac+cheese and am so excited to be here today to share five must-haves with you. When I sat down to think of my items, I kept gravitating back to stuff I use in the morning. Then I realized, that's probably because I always hit the snooze button for just a little too long, and rely on products that work well and can get me out the door in a flash! Of course, there's a bit more to my morning routine than you see here, but on days when I'm running very late, these are definitely the five must haves that I'll squeeze in extra time for.
1. Juice Beauty Antioxidant Serum. This is a new discovery for me, but I can already tell you it will be a staple in my beauty repertoire for a long time. You apply the serum after cleansing but before moisturizing. It dries almost instantly, and leaves your skin feeling smooth, firm, and over time, with a noticeable glow. I don't really like to wear a lot of foundation or powder, so it's super important for me to start off with great skin as a base. Combined with my moisturizer (here's what I'm currently using), my skin is looking awesome these days!
2. RMS Un-Cover Up. I'm in love love love with Rose Marie Swift's line of natural makeup products. I've talked about their products many times, but really, it's because I truly think they're awesome. Too often you try a product that's "natural" and find that the product isn't as good as "conventional." That's so not the case with her makeup line. This concealer goes on quickly, blends seamlessly and is actually GOOD for your skin. I dot a little over any blemishes or uneven areas, and it lasts all day.
3. Jane Iredale bronzer in sunbeam. I like this bronzer because it also has a bit of blush color in it. A quick sweep over the cheeks and you look luminous. It really wakes up your complexion! I use bronzer all year round, not just in the summertime, and I think it makes a huge difference in the way I look.
4. I can't leave the house without mascara. Lately I've just been using Maybelline's Great Lash. It's a classic for a reason…it works!
5. On days when I'm running late, a ponytail or a bun has to suffice. Goody spin-pins can help keep your hair in a bun all day. The look is so chic and effortless, no one will EVER know you were jammed for time that morning.
Presto! You're presentable in just a few short minutes.
 Thanks for having me today, Alyson, and be sure to visit my blog!